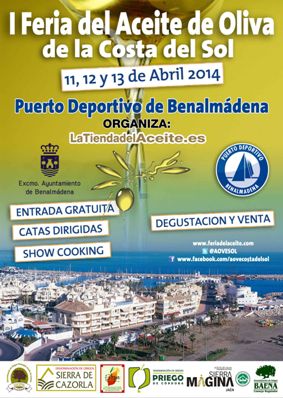 From the 11th to the 13th April, Benalmadena's Marina will host the first edition of the Costa del Sol Olive Oil Fair, an event which the organisers are hoping, will become one of the industry's most important (in Spain). 
This is the first time the event is held in the Malaga province and has the objective of highlighting the latest tendencies, technological innovations, processes, as well as elaboration and extraction of one of Andalucia's most treasured natural resources: Olive oil. 
More than 40 exhibitors from all over Andalucia will be present at the fair which takes place in a large marquee located in the main parking area of the Marina. Seven of the most important olive oil producers in Andalucia will be present with products which have won multiple awards, both in Spain and Internationally. Amongst these top class oils are six of the top ten in the world (according to 'World Best Olive Oils' magazine) and the only Spanish Oil to be included in the UK's 'Top 50 Great Taste Awards'.
Visitors to the fair will be able to enjoy a wide variety of activities, including: Competitions, tastings, conferences, show cooking, workshops and the opportunity to buy products.
Two interesting presentations taking place deserve a special mention:
1)      Researcher Julia Wärnberg, director of the Predimed stydy, will be talking about her research into the benefits of olive oil for cardiovascular health.
2)      The Oleicopiel project will make a presentation about the use of olive oil for the healing of skin ulcers.
Entrance to the fair is free and the opening times are as follows:
Friday & Saturday: 11:00am to 8:00pm
Sunday: 11:00am to 6:00pm
If you are in the area this weekend, the Olive Oil Fair in the Marina could be a great way to spend the afternoon… tasting great olive oils and learning about its fantastic health benefits 🙂