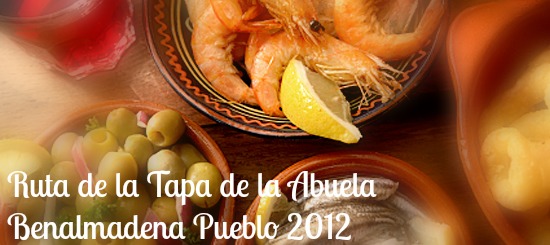 More than 20 restaurants and bars in Benalmadena Village will take part in the 4th 'Ruta de la Tapa de la Abuela' (Grandma's Tapas Route) which will take place from the 19th to the 27th October 2012.
This year the popular culinary event will have the novelty of offering visitors a range of traditional Mediterranean stews and soups. (My mouth is watering just thinking about it :-)).
Almost all the bars and restaurants in the town are taking part in this initiative and will compete for one of the three prizes on offer: The best tasting tapa; the one with the best presentation and the one with the most ellaborate preparation.
As is now traditional, visitors to the Tapas Route will get a special 'passport' where they can collect stamps from all the establishments they visit along the route. At the end of the week all those who completed their passports will be entered into a prize draw and earn the chance to win some fantastic prizes including: Weekend breaks, hotel nights (including one at Sunset Beach Club :-)), tickets to local theme parks and lots more…
Each tapa is priced at – a very reasonable – €1.50 and includes a beer or glass of wine.
Are you planning on going to the Benalmadena Tapas Route? If you do, be sure to take some photos and post them on our Facebook Page!