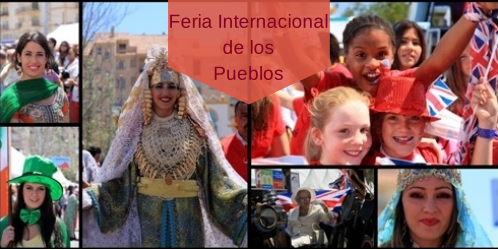 The 'Feria Internacional de los Pueblos' (International People's Fair) in Fuengirola takes place from the 30th April to the 4th May (2014), making good use of the long May bank holiday weekend – or 'Puente', as it is known here. 
This colourful celebration has become one of the city's main tourist attractions – and one of the most popular – with a million yearly visitors. As in previous years, 33 countries and regions from all over the world will take part in the festivities by showing off the best of their gastronomy, traditional products, music and folklore. 
This year's celebrations will be even more special as the event reaches a milestone 20th edition! The town hall has organised a full programme of events with lots of special surprises to commemorate this anniversary.
Using the headline: "Around the world in five days", the International People's Fair will offer visitors an exciting journey through the traditions and cultures of the 33 participating countries and regions. The fun is guaranteed and the timetable – from 1pm to 4am – allows plenty of time to explore every little corner of this spectacular and colourful festivity.
All the celebrations start on the 30th April with the grand opening of the fair. On the bank holiday Thursday 1st May, visitors will be able to enjoy a special show to commemorate the event's 20th anniversary; we're not sure what the surprise is but it's bound to be a fun day!
Saturday 3rd May is reserved for the traditional street parade, one of the highlights of the International People's Fair. The streets will light up with the colourful flags and traditional costumes of the participating countries and thousands of people march – and dance – through the fair ground to the sounds and beats of the music.
If you enjoy good food, music and a little boogie, we highly recommend you take a drive down to Fuengirola and experience the magic of its 'Feria Internacional de los Pueblos'… It truly is a unique event allowing you to discover the culture, traditions and folklore of more than 33 different nations represented by the citizens of Fuengirola.