Benalmadena is getting ready for the 5th edition of its popular and highly successful Blues Festival. As on previous occasions, this years amazing line up of musicians and DJ's will be performing on the stage of Sunset Beach Club's Moonlight Theatre.
The festival kicks of on Friday the 25th November 2011 and ends on the afternoon of Sunday the 27th November. Organised by Active Sound Productions, this years event promises to be "THE" event for blues lovers up and down the Coast. The musicians featured in this year's edition will be playing a wide variety of styles, including: Rhythm and blues, rock and roll, rock-a-billy, punk blues, soul, garage rock, surf and hot swing.
There will be 15 high quality acts throughout the weekend: Seven groups who will be flying in from abroad (3 from the United States – Andre Williams from Detroit, The Goldstars from Chicago and Little Victor from Memphis – Miss Mary Ann and the Ragtime Wranglers from Holand; Knocksville from the UK and Crown Electric Combo from France) and 3 are local groups from Spain (Blas Picon & The Junk Express from Barcelona, Help Me Devil from Madrid and Mississippi Martinez y Los Bastardos from Granada).
As well as the fantastic line up of bands, there will also be 5 of the best DJ's from the "vintage" scene (DJ The Mojo Man from theUS, DJ Crackzorla from Barcelona and DJ Tall Mike from Marbella).
Here's the programme for the Benalmadena Blues Festival:
Friday 25th November 2011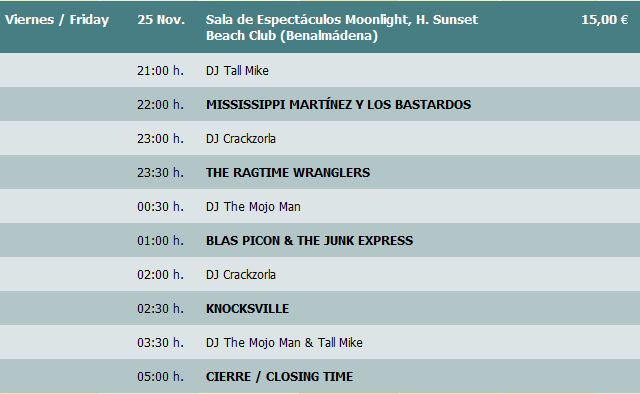 Saturday 26th November 2011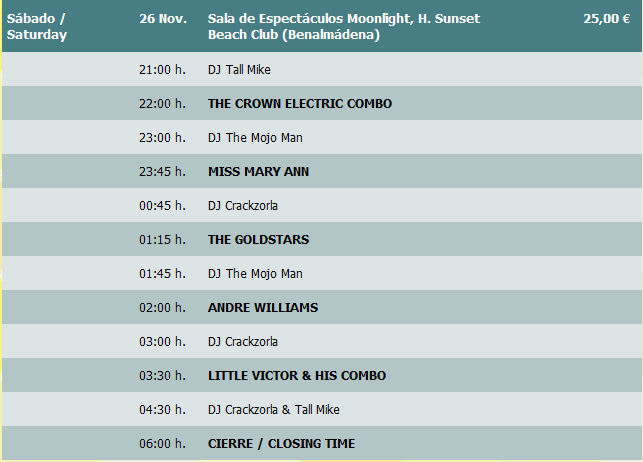 Sunday 27th November 2011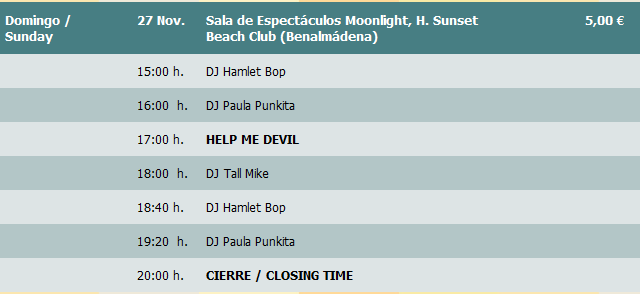 Tickets for the festival are available  at Sunset Beach Club's leisure desk as well as online at www.elcorteingles.es . Prices are as follows:
Friday 25th November – €15
Saturday 26th November – €25
Sunday 27th November – €5
Full weekend ticket – €35
For more information please visit the official website for the event at www.bluesatmoonlight.com or call Miguel Corchón on +34 696 538 530.
If you're thinking of flying in for the Blues event of the year, we've got some great rates starting at €47 per night. You can check availability at www.sunsetbeachclub.com