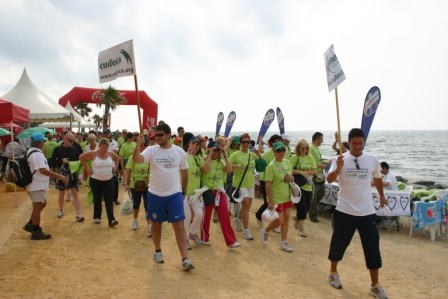 It's Walkathon Time! Come and join us on Sunday 12th May for another edition of this amazing event in aid of the Cudeca Cancer Care Hospice.
If you are interested in contributing to this great cause, the fun packed day begins at 9.30am on Sunday the 12th May. Just head down to the Promenade in front of Sunset  different routes you can choose from, depending on your fitness and energy levels!
Route #1 –2 km wheelchair friendly route (Starts at 11.30am).
Route #2 – 5km route along the beach and promenade from Sunset Beach Club to theMarina and back again (Starts at 11.30am).
Route #3 –10 km route which will take you as far as Torremuelle and the Marina; this one is a little more challenging and involves walking/running up hills (Starts at 10km).
Whichever route you choose, you are in for a fun packed day with live music, paella, BBQ, activities for kids, competitions, a super-raffle and lots more activities waiting for you once you cross the finish line.
Ask your friends and family to come and join you or, if they can't make it, ask them to sponsor you for each kilometre you walk! There will be special prizes for the largest group taking part and for individual participants who raise the most funds.
Registration prices are as follows: 
Adults: €10 if you register before the event an €12 on the day
Children (3 to 7 years): €6 (before the event and on the day)
Family Pack: €20 per family (Father, mother and children)
Pre-payment can be made at any branch of Cajamar or on the Cudeca Website www.cudeca.org.
The account number for payments and non-attendance donations is the following
3058 0821 252720016658
All participants will receive a free Walkathon T-shirt and will also get a raffle ticket as a thank you for their support.
We hope to see lots of you on the Sunset Beach Club promenade on the 12th May 🙂