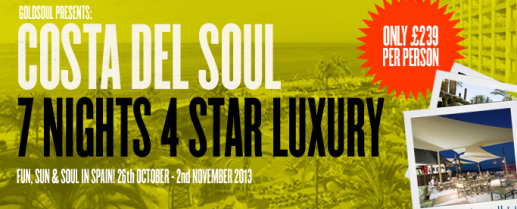 Sunset Beach Club is delighted to be hosting another edition of 'Costa del Soul', a week long soul music event featuring some of the top DJ's from the UK. This will be the 5th year that Costa del Soul comes to Sunset Beach Club and if bookings are anything to go by, this could be the most popular edition to date!
Organised by Goldsoul, a well established UK Soul event promoter, this year's Costa del Soul will be help from the 26th October to the 2nd November 2013. 
So what can you expect at Costa del Soul?
Here's a typical daily events programme…
A daily feast of Classic Soul music from the last 5 decades at the Poolside Tikki Bar from 2 to 4pm.
Some laid back soul in the hotel's Panorama Bar from 6 to 9pm. Includes a Happy Hour and the chance to watch Live Premiership, Champions League andLa Ligamatches.
Dance the night away at the The Moonlight Club; this dance venue will be open from 9.30pm to 2.00am weeknights and from 9.30pm to 3.00am Saturday and Sunday.
Music sets will include the very best Northern Soul Classics, Modern Soul Gems, 60's/70's Floorfillers, Ska, Club  Classics 60's-80's, Jazz-Funk and, of course, Motown.
All of this great music will be brought to you by some of the North of England's best loved Soul Dj's including:
Kev Roberts (Blackpool Tower/Wigan Casino)
Nige Brown (Kings Hall, Stoke)
Snowy (WhitbyWeekender)
Andy Jackson (SweetSoul/Bridlington)
Sam Evans (Soul Purpose)
Ginger Taylor (Brighthouse Ritz/Blackpool Tower)
Chris Dalton (Cleethorpes Pier)
…. plus annual spinners
Pricing and Booking
You can enjoy 7 nights Bed and Breakfast and an entertainment pass for the whole week from just €319 per person (based on double occupancy in a 1 bedroom exterior apartment and arrival 27th October). Extra nights can also be booked; please see link below for more details.
This year the booking process has been made even easier and you can now book your place for Costa del Soul directly through the Sunset Beach Club website or by contacting our reservations department; please click here for more information.
We look forward to welcoming you all to 'Costa del Soul' in October!