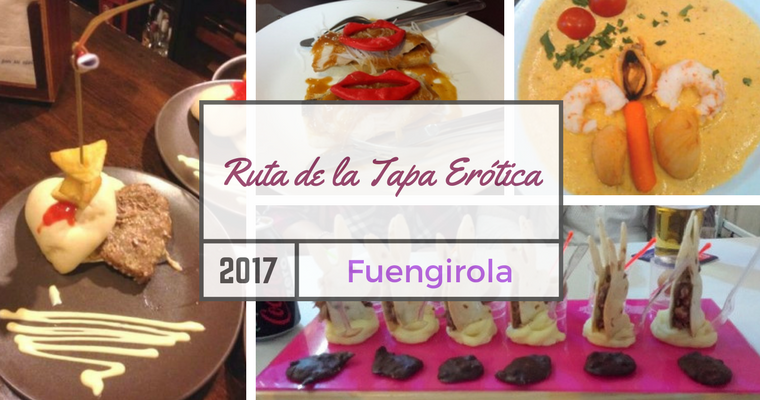 On the 3rd November 2017, our neighbouring town of Fuengirola kicks off the 9th edition of the "Ruta de la Tapa Erótica" (Erotic Tapas Route), a simple and original idea which, since the first edition, has become a reference all over Spain.
Up until the 19th November, visitors to Fuengirola will be able to enjoy this traditional Spanish snack, with a slightly "spicy" touch. This year, the route sees over 70 different establishments take part, each preparing a sensual and fun tapa, with creativity and flair being the main ingredients. This year, some of the participating establishments will also be offering special 'gluten-free' tapas and beers.
Anyone who visits one of the participating restaurants or bars will be able to sample one of these "erotic" tapas and a cool beer (or glass of wine) for a – very reasonable – €2.50. If you choose one of the sweet dessert tapas available in some establishments, you can choose to accompany it with a coffee, tea or sweet wine.
If you visit the Erotic Tapas Route, you'll have the chance to enter a fun competition; all you have to do is pick up a "pasaporte del tapeo" (special tapas passport) at the Tourist Office or in participating establishments. Once you're equipped with your passport, the objective is to get it stamped every time you try a different tapa.
The aim of the competition is to complete the passport with the stamps of 10 different establishments and vote on a favourite tapa. Once the passport is full, you have to hand it in at the Tourist Office to be entered into the fantastic prize draw; these are some of the great prizes you can win: Cruises; Plasma TV's; Romantic weekend breaks; lunches, dinners, and, of course, one or two more erotic gifts 😉
In a previous edition of the "Ruta de la Tapa", more than 50,000 passports were handed out and 6700 of these were actually stamped and handed in. A grand total of over 480,000 tapas were served and, judging by the excitement running up to this year's event, this figure could well be surpassed over the next two weeks!
Are you going to visit the Erotic Tapas Route in Fuengirola? Let us know in the comments below.