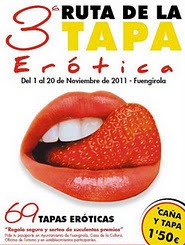 On the 1st November 2011, our neighbouring town of Fuengirola kicked off the 3rd edition of the "Ruta dela Tapa Erótica" (Erotic Tapas Route), a simple and original idea which, in the last couple of years, has become a reference all over Spain.
Up until the 20th November, visitors to Fuengirola will be able to enjoy this traditional Spanish snack, with a slightly "spicy" touch. This year, the route sees 69 different establishments take part, each preparing a sensual and fun tapa, with creativity and flair being the main ingredients.
Anyone who visits one of the participating restaurants or bars will be able to sample one of these "erotic" tapas and a cool beer for a – very reasonable – €1.5. They will also have the chance to enter a fun competition; all they have to do is pick up a "pasaporte del tapeo" (special tapas passport) at the Tourist Office or in participating establishments. Once they are equipped with their passports, they have to make sure they get it stamped every time they try a different tapa.
The aim of the competition is to complete the passport with the stamps of 10 different establishments and vote on a favourite tapa. Once the passport is full, they have to hand it in at the Tourist Office to be entered into the fantastic prize draw; these are some of the great prizes they can win: Mediterranean cruise for 2 people; 42"Plasma TV; Romantic weekend break; lunches, dinners, and, of course, one or two more erotic gifts

During last years edition of the "Ruta dela Tapa", more than 120,000 tapas were served. From what we can see, this year could see them surpass that figure; during the first day of this year's event, some establishments sold more than 700 tapas!