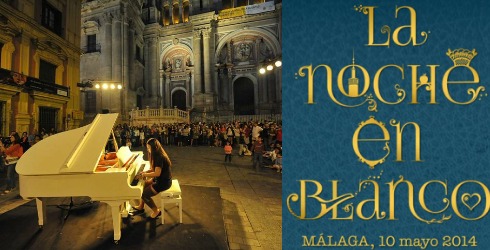 Malaga's 'La Noche en Blanco' (White Night) has established itself as one the city's most important cultural events. This Saturday 10th May from 8:00pm to 02:00am, all who visit the Costa del Sol's capital will be treated to an unbelievable selection of free cultural activities. 
The event organisers (Malaga City Council's Department of Culture) hope to break a record this weekend with around 200 activities spread throughout the city and grouped into various themes:
Museums
Exhibition halls and art galleries
Artistic performances and unique street-facing spaces
Visitors will also be able to enjoy activities related to visual arts; literary and scenic get-togethers; concerts; guided tours of attractions which aren't usually open to the public at these times (such as the Alcazaba fortress) and other programmed surprises during this special evening. 
This year's theme is based on fantasy and fairytales. The streets of Málaga will become the dreamy backdrop for these stories, with characters (in full fancy dress) inviting spectators to join in the show thereby becoming the protagonists of the fantasy.
The cultural festival takes place from 8:00pm to 02:00am on Saturday 10th May; Six hours in which visitors to the city will be able to enjoy free access to all the planned events and activities, including entrances to some of the most popular museums!
Quick tip: six hours is not long enough to see all the attractions and events so, if you're thinking of going to the 'White Night', make sure you plan your itinerary beforehand. Some of the activities may require reservations as availability is limited.
You can see an interactive map showing locations for all the activities by clicking here (it's in Spanish but it gives you a good idea of what to see and where).
One of the most popular activities is the night tour of the famous Alcazaba Fortress. This is one of the only opportunities to see this amazing building all lit up at night; however, you will need to make a reservation beforehand. If you're staying with us at Sunset Beach Club, just ask at the leisure desk located on the 6th floor, they'll be happy to help you book a spot

Feeling adventurous and want to head straight in to Málaga on Saturday evening to explore this cultural festival? You'll be happy to know that there are two special  information points where you can find out everything about the event.
The first is located in Calle Larios and the second in the 'Archivo Histórico Municipal' which is on the main avenue near the Alameda.
Enjoy this superb cultural experience and let us know what you thought in the comments below