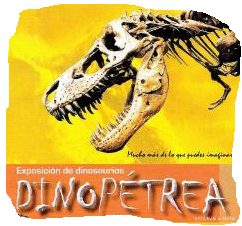 The Trade and Exhibitions Hall (Palacio de Ferias y Congresos) will host a fantastic Dinosaur Exhibition from the 28th April to the 24th June 2012.
After successfully touring various Spanish cities, this unique exhibition – named 'Dinopétrea' – arrives in Málaga for the first time and is sure to be a favourite attraction which will allow children and families to discover the amazing world of the dinosaurs.
Although presented as a scientific exhibition, 'Dinopétrea' promises to be a fun and educational experience for all who visit. You'll be able to see large skeletons and fossils from all over the planet as well as take part in numerous activities which will allow, both adults and children, to travel back millions of years to a time where the infamous T-Rex was the greatest predator on the face of the earth!
Amongst the numerous species which make up the exhibition, visitors will be able to see the skeletons of dinosaurs, mammals which date back 10.000 years,  and reptiles which are more than 125 million years old.
The little ones will also be able to learn all about these fascinating creatures in a layed back and fun way. They'll be able to watch a video about the history and the extinction of the dinosaurs and experience the chance to become real palaeontologists for the day as they look for real fossils buried in a dedicated excavation zone.
'Dinopétrea' will also include an extensive fossil exhibition; an area dedicated to the geodas; and the hall dedicated to the great extinction; here you'll learn about the great meteor which brought an end to the Jurassic era and will also have a chance to touch the stars 🙂
The exhibition will be open week days from 10pm to 2pm and from 5pm to 9pm and at weekends (bank holidays included) form 11am to 9pm. Entrance price will be €7.
If you're planning on visiting Sunset Beach Club or the Costa del Sol whilst the exhibition is on, we highly recommend you mark it on your 'Must See' list.