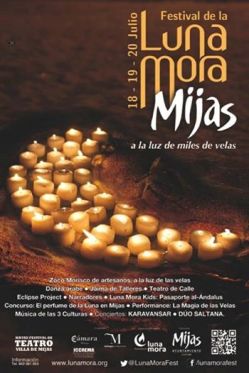 From the 18th to 20th July, the streets of the historic centre of Mijas will host the Luna Mora Festival, a unique event which will light up the picturesque town with 5000 candles! 
This is the first time this famous festival – which has been held for the last 18 years in different towns throughout the province of Málaga – is being held in Mijas. Coinciding with the 28th edition of the 'Villa de Mijas' theatre festival, visitors to the town will be be treated to a spectacular cultural experience.
The organisers have put together a superb programme of events and activities including: Street performers, Moorish market, dance workshops, musical performances, theatre and lots more! 
As in previous editions, the Moorish Market is one of the most popular and visited attractions of the Festival; a space where visitor's five senses are treated to a wonderful and unique assortment of handmade crafts and goods. All the stall keepers are dressed in medieval or Arab costumes and their stalls all have a distinctive medieval look to them.
The full Festival Programme includes: 
Moorish Market with handmade crafts
Arab dancing
Workshops
Street Theatre
Narrators
Eclipse Project
Luna Mora Kids
Competition: 'El Perfume de la Luna en Mijas'
Performance: 'La Magia de las Velas' (The Magic of the Candles)
Concerts: Karavansar & Duo Saltana
See you on the 18th July!