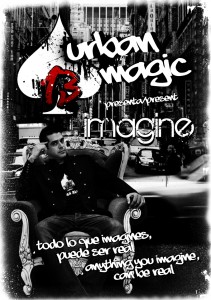 Guests who visited Sunset Beach Club last year would have had the chance to experience an evening of magic and illusions at our Moonlight Bar. Every week, the "Urban Magic Show" delighted kids and parents alike.
Well, we've got good news for you: This year, Jose Manuel (AKA Jose 13) is back with a new show full of new tricks, illusions and pure magic! Imagine (Name of the new show) has been designed to be highly interactive, aiming to keep the audience involved and on their toes at all times; definitely a fun evening for all the family!
"Imagine" is a free show for all guests of the hotel – non residents are welcome, but will have to pay a small entrance fee – and starts at 10:30pm every Thursday evening.
Stay tuned as I will be posting photos and video footage of the new show in the next few weeks!