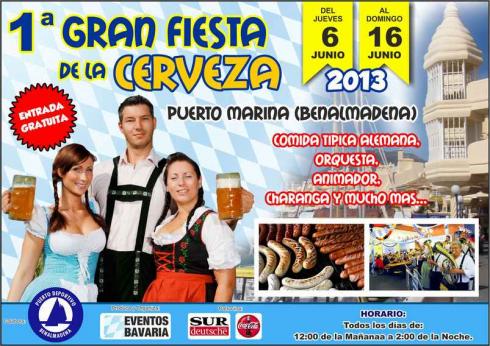 This coming Thursday the 6th June – and until the 16th June – Benalmadena Marina will host its 1st Beer Festival.
This fun concept has been extremely successful in other towns along the Costa del Sol and now it's finally coming to Benalmadena!
This Beer Festival will bring together the essence of the world famous Oktoberfest celebrations and the hospitality of Benalmadena and its citizens. Anyone who visits the festival will have the opportunity to sample more than 20 different beers from Germany and other parts of the world; and we mustn't forget the delicious and typical German foods on offer… Roast pork, a wide variety of sausages, sauerkraut and pretzels to name but a few!
The event starts at 12.00pm and will remain open until 01.00am each day. The organisers have put up a large marquee in the large parking area of the Marina and entrance will be free for all visitors who wish to take part in the fun.
There's no doubt that we're in for 10 'fab' days of great beer, delicious food and live music… not to mention the fact that the Marina will welcome thousands locals and holidaymakers from all over the Costa del Sol 🙂
Are you up for it?
How about making the most it and staying with us at Sunset Beach Club for a few days? We've got a great activities programme with some fantastic free shows in our Moonlight Theatre. Check out our website for more details… www.sunsetbeachclub.com