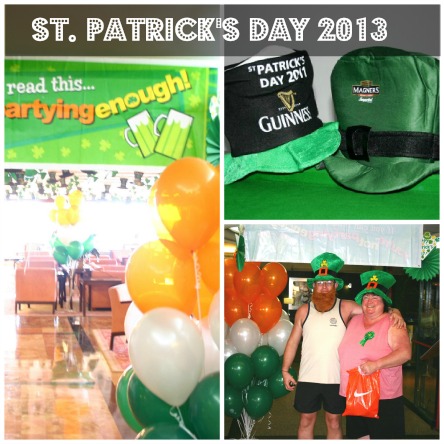 Have you got any plans for St.Patrick's Day?
It's a pretty big deal here with lots of special events and celebrations taking place up and down the Coast. Below we've included some of the more popular celebrations taking place:
#1  Sunset Beach Club's St. Patrick's Day Dinner
We're an Irish owned hotel so our St. Patrick's Day is an important event on our calendar. As there are lots of activities and events taking place during the day in the centre of town (see below), we've saved our celebrations for Sunday evening.
The fun starts at 6.30pm with Happy Hour where you'll be able to get two pints of Guinness for the price of one and free smoked salmon canapés!
From 8.00pm you can head down to the Oasis Restaurant for a delicious and typical Irish meal including Potato and Leek soup and traditional Irish lamb stew. There will also be live music with the talented Ricky Lavazza so expect lots of dancing!
#2 Discover the Magic of St.Patrick's Day at the Miramar Shopping Centre 
This is a great option if you have kids with you. Although we're not too sure the Miramar Shopping Centre is celebrating St. Patrick's Day on the 16th March, it's probably a good thing as it means you'll be able to celebrate two days running!
Here's the program of events at the Miramar so that you can plan your afternoon:
5.00pm to 7pm: The Chocolate Cauldron – Children's handicrafts workshop with leprechauns!
6.30pm to 7.00pm: The End of the Rainbow Parade
7.00pm to 7.30pm: Irish folk music with RRRadio Gee
7:00pm to 7.30pm: Beer Tasting – Don't miss the typical St. Patrick's Day green beers.
7.30pm to 8.00pm: The End of the Rainbow Parade (Second showing)
8.00pm to 8.30pm: Irish Music with RRRadio Gee
#3 St.Patrick's Day Parade in Arroyo de la Miel
This is one of the most popular events on the St. Patrick's Day calendar, a celebration which in recent years has attracted more than 1000 people!
There will be mass in the Carmen Church in Bonanza Square at 1pm. After mass, the parade will head down to the Paloma Park Fairground for a big St. Patrick's Day bash with live music, Irish Dancing, delicious food and, of course, lots of drink! It's bound to be a great afternoon so make sure you don't miss it 🙂
When the fun in Paloma Park is over (normally around 6.00pm) don't forget to head back to Sunset Beach Club for Happy Hour and St. Patrick's Dinner!