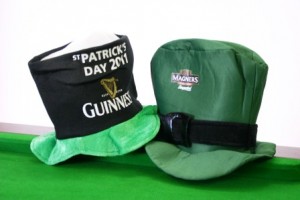 St Patrick's Day is a popular celebration in Benalmadena. Last year more than 1000 Irish locals joined in the parade in the centre of town; add to that the holiday makers that visit the popular resort and you've got the makings of a great party!
It's no secret that Sunset Beach Club is an Irish-owned hotel, therefore, the 17th March is an important day on our calendar. Every year we prepare our "Sunset Style" celebrations which include consuming vast amounts of Guinness at the Panorama Bar and a fantastic "Irish Themed" set menu for all our guests in the Oasis Restaurant!
If you're looking for a plan for St Patrick's day, here's what we recommend you do:
1)  When you wake up, head down to our Oasis Restaurant and tuck into the hot buffet breakfast; you're going to need something solid in your stomach before venturing out and enjoying the festivities  

2)  At around mid-day, you might want to make your way into the centre of Benalmadena (Arroyo de la Miel) and join in the St Patrick's Day parade (starts at the Catholic Church in arroyo de la Miel and ends up at the Feria ground in Benalmadena) Weather permitting, you're guaranteed a great afternoon of singing, dancing and, of-course, Guinness!!!
3)  At 6:30pm, make sure you head back to Sunset Beach Club to enjoy our Happy Hour in the Panorama Bar. Half price drinks until 7:30pm as well as free canapés and giveaways (hats, etc).
4)  Dinner at the Oasis Restaurant: It's time for a delicious St Patrick's Day Themed Dinner prepared by our Head Chef for the occasion. Here's the menu:
Cream of leek and potato soup with chives
or
Salad Nicoise
or
Marinated melon balls with amaretto
******
Irish lamb stew
or
Goujons of Rosada with an alioli sauce
or
Pasta with rocket, pesto and prawns
******
Irish coffee cheese cake with a baileys and chocolate sauce
or
Lemon mousse meringue with red berries sauce
So what do you think? Sounds like a good plan doesn't it? Hurry up and make your booking by calling the restaurant on extension 3000. Local residents who are not staying in the hotel are more than welcome to come and join in the fun! (please call 952 579400 – ext 3000 for reservations)