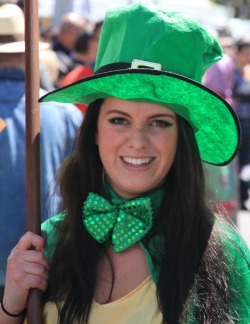 St Patrick's Day is a popular celebration in Benalmadena. Every year over 1000 people (Irish locals, visitors and pretty much anyone looking to have a good craic) join in the parade in the centre of town and the amazing party which takes place next to Paloma Park afterwards!
It's no secret that Sunset Beach Club is an Irish-owned hotel, therefore, the 17th March is an important day on our calendar. Every year we prepare our "Sunset Style" celebrations which include consuming copious amounts of Guinness at the Panorama Bar and a fantastic "Irish Themed" set menu for all our guests in the Oasis Restaurant!
If you're looking for a plan for St Patrick's day, here's what we recommend you do:
1) When you wake up, head down to our Oasis Restaurant and tuck into the hot buffet breakfast; you're going to need something solid in your stomach before venturing out and enjoying the festivities 😉
2) At around mid-day, you'll want to make your way into the centre of Benalmadena (Arroyo de la Miel) where the St Patrick's day festivities start with Mass at the Catholic Church (Inmaculada Concepción – beside the train station) at 12:00pm (ish) – we are in Spain!. After mass, you'll join the Parade which will slowly make its way down to the 'Feria' ground next to Paloma Park. The Irish Association of Spain has prepared a great party which includes celtic dancers (flown in from Ireland), singers, live music, great food and the best Guinness in the area!!! This year they've also organised a talent competition open to all age groups with an excellent prize for the winner. Last minute notice! Due to the bad weather forecast for Saturday 17th March, The Irish Association of Spain has decided to cancel the St. Patrick's Day parade and party in the Paloma Park car park. 🙁
3) At 6:30pm, make sure you head back to Sunset Beach Club to enjoy our Happy Hour in the Panorama Bar. Half price drinks until 7:30pm as well as free smoked salmon canapés.
4) Dinner at the Oasis Restaurant from 6:00pm: It's time for a delicious St Patrick's Day Themed Dinner prepared by our Head Chef for the occasion. Here's the menu: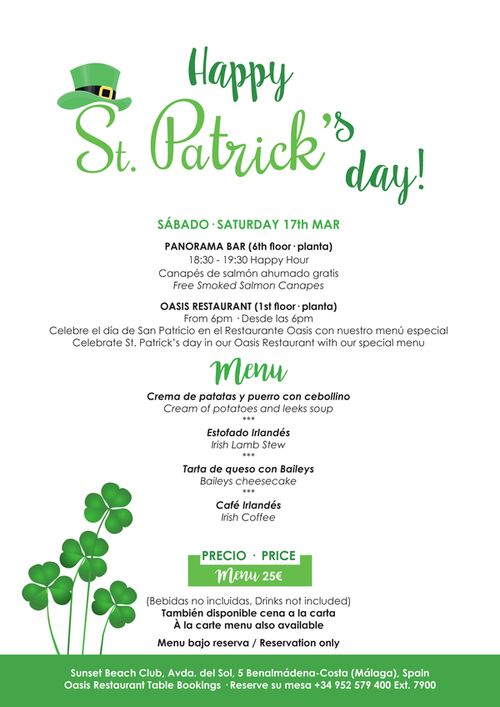 So what do you think? Sounds like a good plan doesn't it? Hurry up and make your booking by calling the restaurant on extension 7900. Local residents who are not staying in the hotel are more than welcome to come and join in the fun! (please call 952 579400 – ext 7900 for reservations).