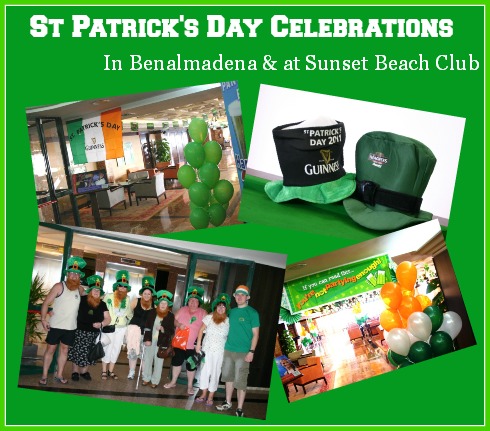 In just under a week, green will be the prominent colour here at Sunset Beach Club as we prepare to celebrate St. Patrick's Day! As many of you know, we're an Irish owned company so this is a big day on our events calendar. 
We recommend our guests start off the festivities by heading up to Arroyo de la Miel for the traditional Parade organised by the Irish Association and which takes place every year through the streets of the town. It all starts at 12.15 pm with mass in the Virgen del Carmen Church followed by the parade down to the Paloma Park fair ground where the 'Party in the Park' takes place.
This year's activities and entertainment include…
Niamh and Gavin Shevlin with their own style of modern Irish dance
Wide selection of dancers, singers and performers providing fun throughout the day.
Lots of bars serving the best Guinness (and other beverages) and 100% Irish Beefburgers and hotdogs.
When you're finished in the Park, head on back to Sunset Beach Club's Panorama Bar for Happy Hour! There will be plenty of Guinness as well as smoked salmon canapés waiting for you 🙂
Our Chefs have put together a special St. Patrick's Day dinner menu in the Oasis Restaurant and you'll be able to sing and dance the evening away to the sounds of Mr. Maph
Here's a quick peek at the menu…
Special of the Day
Irish Beef Stew with Guinness
Special Dessert of the Day
Guinness cake with cheese frosting and a shot of Irish coffee
 If you're still up for more fun after dinner, there's a great entertainment line up in the Moonlight Theatre. Chris King Promotions has put together a hilarious show featuring top irish comedians and singers including Dave Young; a tribute to "Mrs Brown's Boys", Ben Murphy and the Rob Stevens Experience. (See full poster below)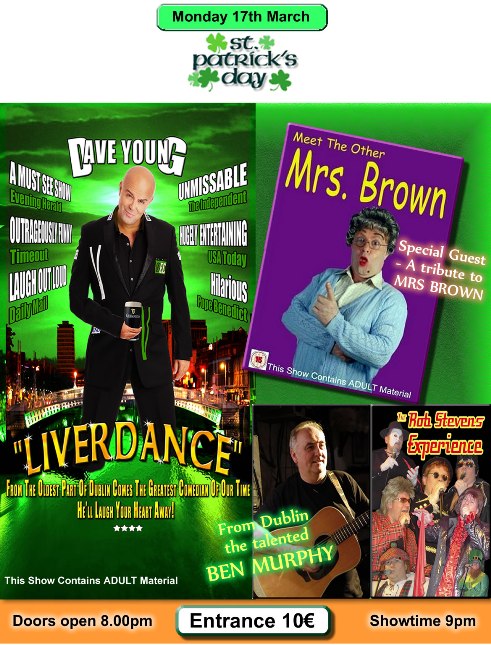 Tickets for the show are €10 per person and can be purchased at the Sunset Beach Club leisure desk located on the 6th floor of the hotel or at the entrance to the Moonlight Theatre on the night of the show.
Doors open at 8:00pm and the show starts at 9:00pm.
Please note that the show in the Moonlight is not suitable for children.