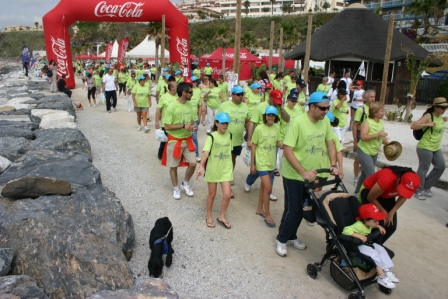 Next Sunday 20th May 2012, the promenade in front of Sunset Beach Club will once again host the Cudeca Walkathon fundraising event. All funds raised at this event are for the Cudeca Cancer Care Hospice in Benalmadena so we'd like to encourage hotel guests and visitors to Benalmadena to take part in the Walkathon and help us support this much needed charity.
SunsetBeachClub will once again be involved in the organization and sponsorship of the Walkathon which is hoping to build on the success of previous years.
Everyone is welcome and the Cudeca team and sponsors do a great job to ensure there are plenty of activities for a fun packed day! The meeting point will be the promenade area just in front of Sunset Beach Club and participants can register for the walk from 9:30am. 
Obviously, the main event is the Walkathon with 3 different routes that participants can choose:
2 kmwalk – an easy walk with wheelchair access – starts at 11:30am
5 Kmwalk along the beach and the promenade – starts at 11:30am
10 kmwalk along the beach and promenade but also includes a few hills… starts at 10:30am
The registration fees are the following:
Adults – €10 (pre-event) and €12 on the day
Children ages 3 to 17 –  €6
Family Pack (Father Mother and Children) – €20 per family
As a thank you for your support, you'll receive a free Walkathon t-shirt and raffle ticket when you register.
All participants are also encouraged to ask friends and family to sponsor them for every Km they walk; there will be special prizes for those who raise the most funds!
After the walk, it'll be time to relax and unwind… Live music, a large paella, BBQ, activities for kids, competitions, super raffle and lots more activities await all those who complete the Walkathon 🙂
You can participate by pre-registering at the Cudeca website (www.cudeca.org) or just turn up on the day.
We look forward to seeing lots of you on Sunday!