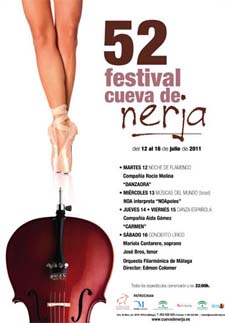 Next Tuesday the 12th July sees the start of the 52nd edition of the famous Nerja Caves Festival, one of the most important music and dance events on the Costa del Sol.
Since the opening of this spectacular cave in 1960, this Festival has been held every year, attracting artists and musicians from all over the world. Thanks to its incomparable beauty and exceptional acoustics, the Nerja Caves attract thousands of spectators every year – approximately 800 people are seated every night in the "Sala de Ballet" auditorium to enjoy the very best music and dance shows.
This year, the festival will be split into four separate parts: An evening of Flamenco, an evening dedicated to music of the world, an evening of Spanish dance and opera and last, but by no means least, a lyrical concert.
The programme for the 5 day event is as follows:
Tuesday 12th July at 10 pm – Flamenco Evening
The Festival starts with a true andalucian flavour; Málaga flamenco dancer, Rocio Molina's show "Danzaora", winner of the 2010 Dance Prize.
Wednesday 13th July at 10 pm – Musicians of the World
This year, the festival is proud to announce the performance of Israeli singer, Noa, who will be interpreting her new musical project called "Noapoles", a fusion of melodies from Naples – the singer actually lives in Italy – and music from her home country. Noa will be accompanied on stage by Gil Dor, Zahar Fresco and the Solis String Quartet.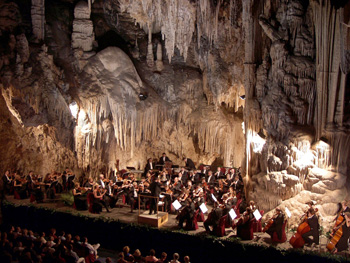 Thursday 14th July & Friday 15th July at 10 pm – Spanish Dance
The Aida Gómez dance company – which belongs to the National Ballet of Spain – will be performing Bizet's classic opera, Carmen.
Saturday 16th July at 10 pm – Lyrical Concert
The last evening of the festival is reserved for a fantastic lyrical concert. The voices of tenor José Bros and soprano Mariola Cantatero will be accompanied on the magnificent stage by the Philharmonic Orchestra of Malaga, led by conductor Edmon Colomer.
For reservations, you can call 952 52 95 20; don't leave it too long though as space is limited and tickets are selling out fast.
Note: Why not make a special holiday out of the event and enjoy a few nights at Sunset Beach Club too… you can check availability here!