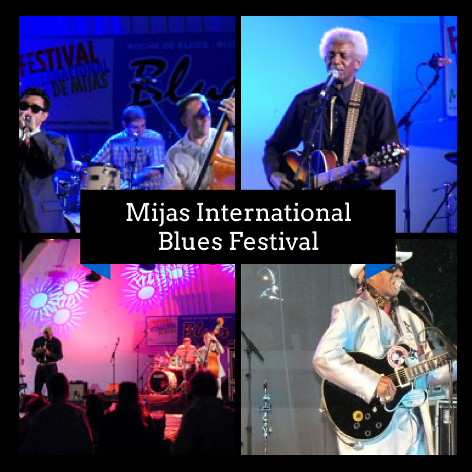 Next month – from the 4th to the 6th of July – the stunning white village of Mijas will host the 8th edition of its popular International Blues Festival. An impressive line up of free concerts awaits blues fans with veteran artists such as Jimmy Thomas, Bob Margolin, John Primer, West Weston, Jerimiah Marques and Bob Stroger taking part in the weekend's festivities. 
During the three days of the festival, all concerts will take place in the town's Virgen del a Peña square from 7:00pm until past midnight.
Organised by the MijasTown hall and its Foreign Residents Department, the festival kicks off on Friday the 4th July with Scottish five piece, The Robin Robertson Band, and their unique combination of blues, jazz and rhythm & blues.
This first day of the festival will also include performances by the following musicians:
Jerimiah Marques and the Blue Aces with their genuine Chicago-style blues from the 50's combined with reggae.
Jimmy Thomas, another great musician – who worked with Ike and Tina Turner – will play with Blues Eternity, accompanied by bassist, Mark Olbrich.
Bob Margolin, legendary guitarist and member of the Muddy Waters band in the 70's will close the evenings performance joined on stage by the Tota Blues Band.
Concerts on Saturday 5th July:
From the Uk… West Weston's Bluesonics
Chicago Blues with John Primer and Bob Stroger
Three of the most relevant bands in the Malaga blues scene at the moment: Lito Blues Band, Mama Paula Band and Gangberries.
And on the final day of the festival…
All the way from Georgia… Koka & T. Blues Mob who have shared the stage with Blues greats such as Johnny Winter, Dave Hole, Blaze or Magic Slim
West Weston's Bluesonics
Another dose of Jerimiah Marques and the Blue Aces
From Córdona (Spain), Gladys Rockin & Tres Gatos
Here's the full concert programme with dates and specific times…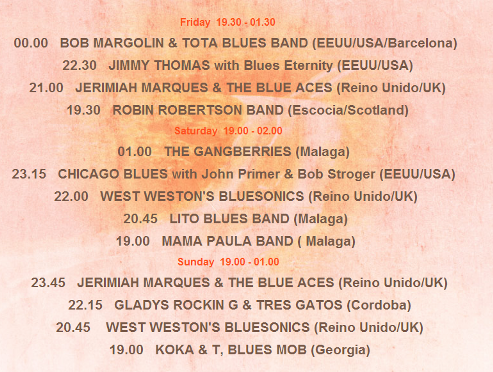 If you're planning on visiting the Mijas International Blues Festival, and are looking for accommodation, Sunset Beach Club offers great value apartment style accommodation and is just a short 20 minute drive from Mijas. For more information and to check availability, please visit www.sunsetbeachclub.com.