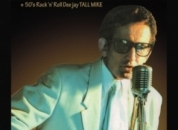 Great news for all Buddy Holly Fans on theCosta del Sol! Our friends at Active Sound Productions have organised a great evening of the best Rock n' Roll with the "Buddy Holly Show" which will take place at Sunset Beach Club's Moonlight Theatre in Benalmadena.
Performing as Buddy Holly in this fantastic tribute show will be Buddy Walker; many of you may recognise the name… he was the winner of "Stars in Their Eyes" with his amazing performance as rock n' roll pioneer, Buddy Holly.
Entrance tickets are only €5 (+ service charges) and can be bought at the door on the evening of the show.
The programme for the evening is as follows:
10:00 pm : Music with DJ Tall Mike
10:30 pm : Buddy Walker and his Buddy Holly Tribute Show
11:30 pm : Music and dancing with DJ Tall Mike
For more information about the Buddy Holly Tribute Show, please contact Miguel Corchón on 696 538 530 or visit the Active Sound Productions website at www.activesoundproductions.com .