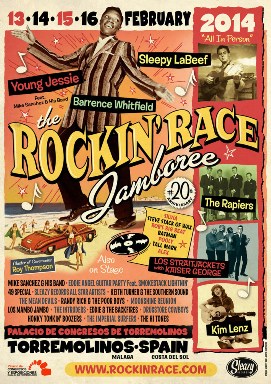 Next Thursday 13th February sees the start of another edition of the Rockin' Race Jamboree music festival in Torremolinos. This is the event's 20th anniversary and will attract thousands of visitors from all over the world eager to enjoy a fun packed long weekend to the sounds of their favourite musical genre: music with American roots from the 50's.
This year the festival's organisers wanted to do something special to commemorate this 20th anniversary… They will be flying in some of the world's top artists exclusively for the event! Here's a list of these top names:
Young Jessie featuring Mike Sanchez & his Band
Sleepy Labeef
Barrence Whitfield
The Rapiers
The Straitjackets with Kaiser George
The festival will take place in two locations: The Palacio de Congresos y Exposiciones in Torremolinos and the Buenavista Apartments. Last year more than 3000 people participated in the event and organisers are hoping that this year will attract even more rock n' roll fans.
The following bands and artists complete the line up for Rockin' Race Jamboree 2014:
Eddie Angel's Guitar Party feat Smokestack Lightnin'; 49 Special; Keith Turner & The Southern Sound; Eddie & the Backfires; Randy Rich & The Poor Boys; The Mean Devil; The Intruders; Drugstore Cowboys; Moonshine Reunion; Los Mambo Jambo; The Imperial Surfers; The Honky Tonkin' Boozers; The Hitones.
Tickets for the Festival
Tickets will be on sale during the festival at the ticket offices in the Palacio de Congresos and Buensol Apartments at the following times:
Palacio de Congresos
Thursday from 9:00pm to 3:00am
Friday from 9:00pm to 3:00am
Saturday from 9:00am to 3:00am
Buensol Apartments
Friday from 12:00pm to 6:00pm
Saturday from 12:00pm to 6:00pm
Sunday – All day
Prices
Thursday: €20
Friday: €30
Saturday: €35
Sunday: €20
4 Day pass: €60
Accommodation
If you are looking for accommodation for the Rockin' Race Jamboree, we hear that the official hotels for the event are now fully booked; however, if you don't mind a quick 10 minute journey, at Sunset Beach Club we've got some fantastic exterior view apartments available starting at just €54 per night (sleeps 4 people). For more information and to check availability, please go to www.sunsetbeachclub.com.