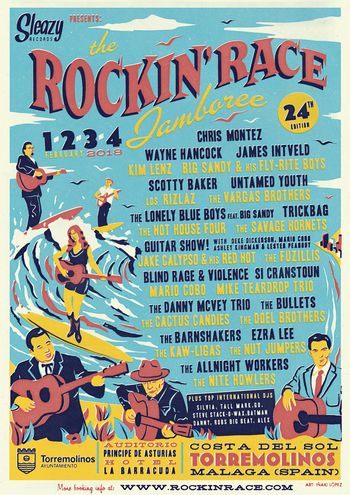 Thursday 1st February 2018 sees the start of another edition of the Rockin' Race Jamboree music festival in Torremolinos. This is the event's 24th anniversary and will attract thousands of visitors from all over the world eager to enjoy a fun packed long weekend (1st, 2nd,3rd & 4th February) to the sounds of their favourite musical genre: music with American roots from the 50's.
This year's festival features some of the world's top artists exclusively for the event! There are approximately 28 artists and bands playing during the 4-day event, including:
The Ragtones
Pike Cavalero
The Vargas Brothers
Si Craunston
Wayne Hancock
Untamed Youth
The Savage Hornets
The Bullets
Chris Montez
Scotty Baker
James Intveld
Please click here to see all the featured artists at this year's Rockin' Race Jamboree
The festival will once again be held at the 'Auditorio Príncipe de Asturias' with the Hotel Barracuda as a secondary venue and serving as a main meeting point for the Festival. Previous editions of the festival have attracted more than 3000 people and event organisers are hoping that this year will attract even more rock n' roll fans.
This year also sees a repeat of the free concerts and events in Plaza La Nogalera and Plaza del Remo over the weekend. Here's a quick look at the concerts you'll be able to enjoy:
La Nogalera on Saturday 3rd February featuring The Allnight Workers at 12:00pm and Ezra Lee at 2:00pm.
Plaza del Remo in La Carihuela on Sunday 4th February featuring The Kaw-Ligas at 12:00pm and The Hot House Four at 1:00pm.
Tickets for the Festival
Tickets will be on sale during the festival at the ticket offices in the Auditorio Principe de Asturias and Barracuda Hotel.
Prices are as follows_
4 Day Pass + CD: 70€
Tickets for individual days + CD: 35€
Accommodation
If you are looking for accommodation for the Rockin' Race Jamboree, we hear that the official hotels for the event are now fully booked; however, if you don't mind a quick 10 minute journey, at Sunset Beach Club we've got some fantastic exterior view apartments available starting at just €59 per night (sleeps 4 people). For more information and to check availability, please go to www.sunsetbeachclub.com.