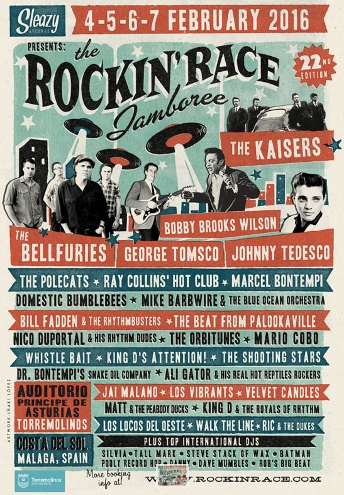 Next Wednesday 4th February 2016 sees the start of another edition of the Rockin' Race Jamboree music festival in Torremolinos. This is the event's 22nd anniversary and will attract thousands of visitors from all over the world eager to enjoy a fun packed long weekend to the sounds of their favourite musical genre: music with American roots from the 50's.
This year's festival's features  some of the world's top artists exclusively for the event! There are 28 artists and bands playing during the 4 day event, including:
The Bellfuries
Johnny Tedesco
Bobby Brooks Wilson
The Kaisers
George Tomsco
Ray Collins' Hot Club
Nico Duportal ¬ His Rhythm Duddes
The Beat From Palookaville
Please click here to see all the featured artists at this year's Rockin' Race Jamboree
This year the main venue for the festival has changed and will be held at the 'Auditorio Príncipe de Asturias' instead of the Palacio de Congresos y Exposiciones in Torremolinos.  Other venues include the Sol Timor Apartments and La Barracuda Hotel. Previous editions of the festival have attracted more than 3000 people and event organisers are hoping that this year will attract even more rock n' roll fans.
Another new feature of the event is that the Rockin' Race Jamboree will also hold morning performances in the following venues:
La Nogalera on Saturday 7th February featuring Los Vibrants and Nico Duportal & His Rhythm Dudes
Plaza del Remo in La Carihuela on Sunday 8th February featuring Rik & The Dukes.
Tickets for the Festival
Tickets will be on sale during the festival at the ticket offices in the Auditorio Principe de Asturias, Sol Timor Apartments and Barracuda Hotel.
Prices are as follows_
4 Day Pass + CD: 70€
Tickets for individual days + CD: 35€
Accommodation
If you are looking for accommodation for the Rockin' Race Jamboree, we hear that the official hotels for the event are now fully booked; however, if you don't mind a quick 10 minute journey, at Sunset Beach Club we've got some fantastic exterior view apartments available starting at just €55 per night (sleeps 4 people). For more information and to check availability, please go to www.sunsetbeachclub.com.