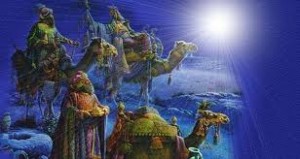 The kids are getting excited as their favourite day of the year approaches: Three Kings. As is tradition here in Spain, families congregate to watch the popular Three Kings parades which take place in most towns and cities. This year, Benalmadena town hall has organised a fantastic parade which you wont want to miss.
Official Route of the 3 Kings Parade in Benalmadena
12:00 pm – The 3 Kings arrive by boat at the Marina's eastern pier. Upon arrival, they will head to the area between Avenida Alay and Antonio Machado; fromm here, the children will have the opportunity to hand over their letters (with their present wish list) to the 3 wise men as well as enjoy entertainment and animation which has been organised. The local business association will also donate a large number of gifts and toys which will be handed out amongst all children who attend the arrival of the Three Kings.
Whilst the little ones enjoy their toys and presents, Mum's and Dad's can try some delicious hot chocolate or a piece of traditional Roscón de Reyes (traditional Three Kings Cake) which local businesses will be handing out. 🙂
4:30 pm – The parade will head to BenalmadenaVillage. Starting off at the main fair ground, it will travel through the main streets of the town and arrive back at the Town Hall at 5:30 pm when the children will hand over their letters and wish lists.
6:30 pm – The parade leaves from the Tivoli World parking area and will follow the traditional route through Arroyo de la Miel which ends at the Mezquita Square; again, with a reception for the children.
This year the Three Kings Parade is made up of nine floats, 4 groups of street performers, the Tivolo World mini-train and 3 choirs; the musical note is completed by the Coronado de Espinas drum and trumpet bands.
The Three Kings will be giving out 12.000 kilos of sweets – the tradition is for the 3 kings and their helpers to throw sweets to the crowds – throughout the day, which is apparently a record. Luckily for the Town Hall, all these sweets have been donated by local businesses!
Why not make the most of this fantastic traditional and enjoy a weekend "fit for kings": Go and watch the Three Kings Parade and then come and spend the night (or nights) at SunsetBeachClub… visit www.sunsetbeachclub.com for availability and pricing.