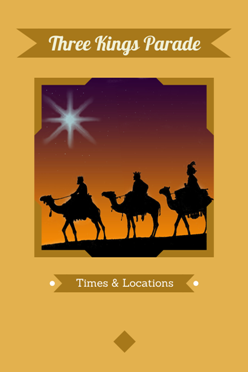 This Sunday night sees the arrival of the Three Kings, Gaspar, Melchor and Balthazar. Excitement is the operative word as kids (and some adults) eagerly await the arrival of the Three Kings of Orient bearing gifts for all those who have been good over the past year 🙂
The fun begins a little earlier though, as the Three Wise Men delight crowds in the traditional parades which take place in all the major cities, towns and villages on the afternoon of the 5th January.
Families will be lining the streets to catch a glimpse of the gift-bearing Kings sitting comfortably in their spectacular carriages which slowly make their way through the carefully planned routes. Make sure you take a plastic bag to collect all the sweets which will be thrown in to the crowds from the carriages!
If you'd like to see one of the many parades taking place throughout the Costa del Sol, we have included a list of the main ones below together with starting times and specific locations.
Benalmadena
The Three Kings actually arrive in Benalmadena by boat! Head down to the Marina at midday and you'll watch them disembark. At 4.30pm you can watch the parade in Benalmadena Pueblo and later at 6.30pm in Arroyo de la Miel.
Malaga
The parade starts at 5.00pm from MalagaTown Hall. Although there are many places to watch the parade, your best bet is to probably head to the Alameda area near the Cathedral and Calle Larios.
Marbella
The Three Kings arrive in MarbellaPort by catamaran and midday. At 5.00pm they'll visit the Costa del SolHospital and then head into Marbella for the main parade which starts from Avenida Severo Ochoa at 6.00pm.
Fuengirola
The Three Kings travel in style to Fuengirola arriving at the 'Elola' sports stadium by helicopter at 4.00pm. From there they will travel by bus to the LosBolichesTown Hall where the main Parade begins at 5.00pm.
Enjoy the parades and may the Three Kings bring you loads of great presents! 😉