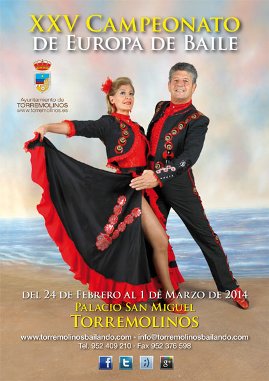 From the 24th February to 1st March 2014, Torremolinos will host the 25th edition of the European Dance Championships, an event that each year attracts around 1000 participants from all over Europe.
The extensive programme of events will have almost a dozen competitions, all taking place in one location: The 'Palacio San Miguel'. This year spectators will be able to enjoy the following competitions: The European Combined (Waltz, tango, pasodoble); the Spanish Combined; the European Tango, Waltz, Pasodoble, Cha Cha Cha, Salsa, Rock and Artistic Dance Championships.
To complete the vast programme, there will also be two group competitions: The Spanish Dance Championship and the European Dance Groups Championship.
Every afternoon (Monday to Saturday) at 3:00pm and Tuesday, Thursday and Saturday mornings at 10:00am, spectators will be able to enter the 'Palacio San Miguel' free of charge and watch all the preliminary rounds for all the competitions.
The evening galas take place at 9:00pm every evening with the finals for each dance discipline. Entrance fees are just €5 per person and can be purchased at the following locations:
The Concierge at the 'Pablo Ruiz Picasso' cultural centre – Calle Cruz nº42.
Culture and Festivities Department of the Torremolinos Town Hall (Plaza Blas Infante, nº1) from 9.30am to 1.30pm, Monday to Friday.
Calling the Municipal Dance Department on 95 2409210.
During the event at the 'Palacio San Miguel' ticket office.
Make sure you don't miss the main event on the Wednesday evening: The Emperor's Ball. This is a truly magical black tie event where everyone (including spectators) must dress accordingly: The gentlemen in dinner jackets and ladies in long white dresses.
CLICK HERE for a copy of the European Dance Championship full events programme
If you're thinking of going the European Dance Championship and are looking for accommodation, at Sunset Beach Club we've got comfortable 1 bedroom apartments from just €49 per night. For more information and availability, please go to www.sunsetbeachclub.com