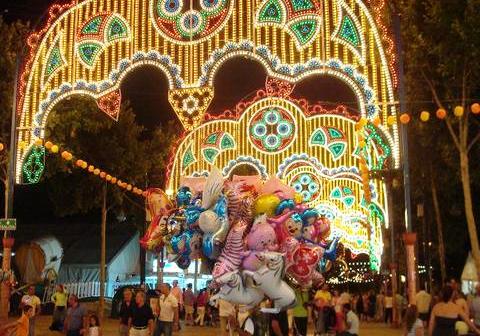 We've got a busy week ahead of us: On Thursday evening we've got the Night of San Juan celebrations to look forward to and Friday sees the start of the fair in Arroyo de la Miel!
For those of you who have yet to experience a true Spanish fair, this weekend is your chance to cross that off your list of things to do.
You'll be spoilt for choice of things to do: When towns and cities in Spain celebrate their local festivities and fairs, the celebrations tend to be split into a daytime fair and the night fair.
The daytime fair is held in the town centre from midday until 7:00pm. You'll find lots of makeshift stands and bars setup specifically for the fair; the perfect place to enjoy a nice glass of wine and delicious tapas whilst you take part (not compulsory!) in singing and dancing to the sound of flamenco! The atmosphere is amazing with lots of colourful decorations and locals dressed in traditional Flamenco attire. One word of warning: If you don't like noise, you might want to give this a miss…
For those of you with kids, the night fair is your best bet. You can still enjoy the good wine, tapas and flamenco music available in one of the marquees (they are called "casetas" here) but there is also a fun fair with many rides for the younger ones – and for adults. Just head to the fair ground which is located next to Paloma Park from around 7:00pm onwards and join in the fun!
Be sure to take your camera with you as you'll undoubtedly have many good photo opportunities… be sure to post some on our Facebook page too 🙂