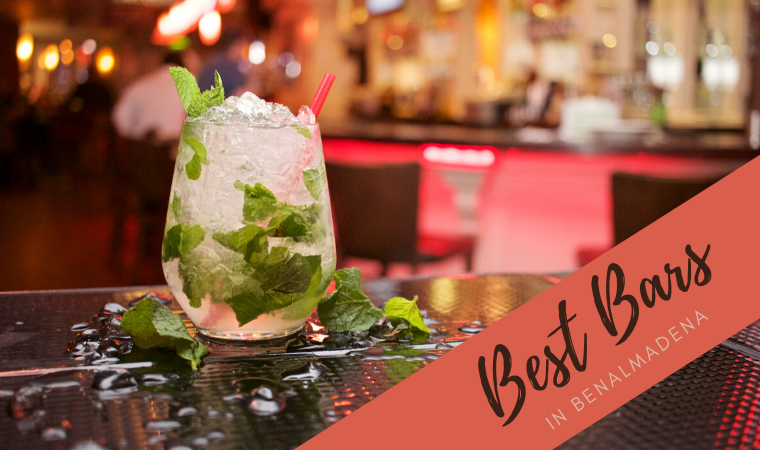 Are you looking for recommendations of the best bars in Benalmadena?
Back in 2012, we asked our Facebook fans to name their favourite bars in Benalmádena and included their recommendations in this Blog post. It's been 8 years now so we felt the post needed updating so we asked our Facebook fans the same question again… Below you'll find their top recommendations as to the best places to enjoy their favourite drink!
We've prepared the list in order of most mentions; that doesn't mean one is better than the other but does give you an idea of which are most popular amongst Sunset Beach Club guests 😉 We've also left some of the bars that were mentioned in 2012 but that didn't get a mention this time as we are aware that they are also very popular. We hope you find the list useful!
These bars got the most mentions and recommendations:
1) Salitos Bar – Our popular seafront cocktail bar is definitely a great choice for chilling out with a nice cocktail and watching the amazing sunsets. We recommend the Mojito!!! (Only open in the high season.)
"Salitos, my favourite bar of all time. Nicest staff in the world… if I has a wish to be somewhere now, this is where I would be, drinking a nice glass of sangria" – Aine Whelan
2) Ha´penny Bridge – Located just 400 metres from Sunset Beach Club this local bar got lots of mentions.
"Lovely friendly family run bar and staggering distance from Sunset Beach Club" – Marianne Reeves
3) Mullarkey's – About 20 minutes walk from Sunset Beach Club and popular for their cocktails.
4) Panorama Bar – Located on the 6th floor of our hotel, the Panorama Bar has a popular happy hour and shows all the major sporting events on large TV's throughout the bar.
"Great Happy Hour and stunning views across the sea" – Claire Barry
5) Coco's Bar – Located just down the road (5 minute walk) from Sunset Beach Club it's a long time favourite!
6) Buddy's Bar – Located in Plaza Ole… "Fantastic staff and great location, always meet great people." – Richard Crosland
7) Shamrock Irish Pub – Along the main road, just past the Marina – Great Guinness and Irish coffee!
"Always a great welcome and the Guinness is mighty!" – Grace-Ann Byrne
8) Maracas Bar – Located in Playa Bil-Bil, just minutes from Sunset Beach Club.
9) Luna Beach Club – Located just 400 metres from Sunset Beach Club and with spectacular views over the beach and sea, Luna Beach is a must-visit during the summer months.
10) Dec's at the Marina – A popular pub located in Benalmadena's bustling Marina
11) Palm 5 – Located on the seafront very near Playa Santa Ana.
The bars included below weren't recommended as much as the eight above, however, each one did receive a mention so they make it on to our list!
Kaleido – Located in the Marina, this is another great location to enjoy fantastic cocktails – Very popular in the evenings.
Angels Cocktail Bar – 800 metres walk from Sunset Beach Club and great for cocktails.
O'Hara's Irish Pub – Plaza Olé,1
Casey Dukes Irish Bar – According to one of our guests, they actually bring in their Guinness from Dublin! Located near 24-hour square and the Marina.
The Madass Irish Sports Bar – "A friendly family bar" located in Calle Siroco, near 24 Hour Square.
Waykiki– Located in Pje Del Águila, 140 (6 minute walk from Sunset beach Club)
Lewis's Celtic Bar – Av. Antonio Machado, 35. "Lewis's bar is perfect for a huge range of draught beers, great atmosphere and banter, lively and always something going on. All the sports you can handle too on the TV's" – Ally Rennie
Bar 76 – Just up from the Windmill roundabout.
Scruffy Murphy's – Av. Antonio Machado, 54
Forever Beach Club – Located in the Marina, it's a popular spot for cocktails and dancing
Capone's – Av. de la Telefónica, 2… great for live music!
Weatherspains – Av. Antonio Machado, 76
Darcie's Bar – On the main road just past the Tourist Office
Sky Bar at Las Arenas – Stuning views from the rooftop bar at Las Arenas Hotel
Mombasa Sports & Party Bar – Located in the Marina, the name says it all!
Sam's Sports Bar – Calle Palmito
The Vineyard – Los Porches, Av. Antonio Machado, 33 & 34
Cherrie's Bar – Avenida Las Palmeras (10 minutes walk from Sunset Beach Club)
Caesar's Bar – Avenida Las Palmeras (10 minutes walk from Sunset Beach Club)
Pueblo Bar – In Benalmadena Pueblo, this bar is run by landlord Mick Gibney and also has a Golf Society.
L.A. Bar – Av. Antonio Machado,80. "Very friendly bar and host, beers good and cocktails very good, with beautiful views of palm trees and the sea." – Jim Boothby
The Bars below were recommended in 2012 when we first wrote this post and although they weren't mentioned this time, they are still very popular bars that deserve to be in our list.
Molly Malones – Another very popular choice located in 24 Hour Square near the centre of town and the Marina.
The Drunken Sailor – Located on the promenade near the famous Windmill Roundabout, this established bar boasts fantastic views and friendly service.
Carlos Pub – Av Antonio Machado nº13 (Just Past the Marina) – Great interior patio!
Kon Tiki – "In front of Benal Beach, great cocktails and staff".
The Fountain Bar – Located in Plaza España (Also known as Fountain Square).
The Torreon – Also in Plaza España (Fountain Square).
Bar None – On the seafront towards the Marina – Great for live football matches!
The Belfry – Very near Sunset Beach Club inPalm Tree Avenue. Another great venue for live sports
Okie Dokie's – Located on the waterfront in the Marina.
So there you have it, a great list of bars in Benalmadena recommended by our Facebook fans. Have you got a favourite? Feel free to add to this list by writing in the comments below.
Looking for somewhere to stay in Benalmadena? Sunset Beach Club Hotel offers comfortable apartment-style accommodation and fantastic 4-star facilities for a fun and relaxing holiday! Visit www.sunsetbeachclub.com for more information and to book online.