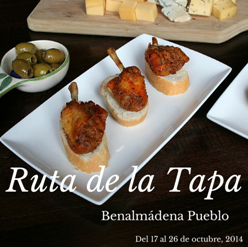 From the 17th October to 26th October, visitors to Benalmádena Pueblo will be able enjoy a delicious assortment of tapas as the town celebrates its 7th annual Tapas Route. 
Twenty of the town's bars and restaurants will be taking part in this gastronomic event which has become one of the main culinary, cultural and touristic attractions for the town during the lower autumn season.
Residents of Benalmadena and all who visit over the next few days will have the opportunity to taste a wonderful selection of tapas dishes, from the most innovative creations based on local cuisine to more traditional style dishes.
For just 1.5€ you'll be able to enjoy a tasty tapa and a drink in any of the participating establishments.
The Benalmádena council is always looking to introduce improvements to the Tapas Routes and this year is no exception… The town will be divided into 3 separate zones and visitors who wish to enter the traditional prize draw will have to hand in a special 'passport' (which you can pick up at any of the participating establishments) with three stamps from each zone.
Those who manage to fill the whole 'passport' with stamps will be recognised as 'Golden Tapaport' (Tapaporte de Oro) and will be automatically entered into a special prize draw for a chance to win some fantastic prizes!
If you're a fan of traditional Spanish tapas, we highly recommend you visit Benalmádena Pueblo for their 7thTapas Route. Apart from the fabulous food you'll get to eat, you could also win some fantastic prizes! 🙂