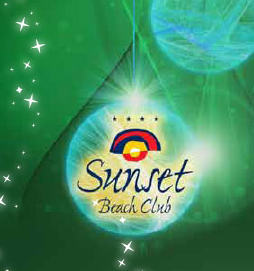 Christmas is just around the corner and it's all hands on deck here at Sunset Beach Club. Our Head Chef and his team have been working hard, preparing the delicious menus for Christmas lunch and the New Year's Eve gala dinner; meanwhile our marketing team has been busy putting together our Festive Programme for the holidays.
The end result: Great food, fun parties and the traditional visit of Father Christmas, to name but a few. These are some of the highlights of the Festive Programme:
Bucks Fizz cocktails and mince pies followed by a special visit from Santa Claus who will be bringing gifts for the little ones!
Traditional Christmas lunch in the Oasis Restaurant – A delicious 4 course treat which you don't want to miss!
New Year's Eve Gala Dinner in the Oasis Restaurant – 5 course meal, live music, party bag and the traditional Spanish grapes.
New Year's Eve Party in the Moonlight – From 11pm until early hours of the morning; live music, party bag and lucky grapes. (For real party goers!)
You can view and download the full Festive Programme here…
If you've booked to stay with us over the Christmas and New Year period, be sure to book for the Christmas Lunch and New Year's Eve Gala Dinner as we're expecting a full house 😎
And for those of you who haven't made up your minds about where to spend Christmas this year, what are you waiting for? Head on over to our brand new website at www.sunsetbeachclub.com and check out our rates for the Christmas holidays…you'll be pleasantly surprised! Prices start at €56 per apartment (external) per night including buffet breakfast for 2 people 🙂
Are you ready to spend a fun Christmas and New Year in the sun?