Benalmádena Marina is getting ready to host a very special gastronomic event… the Food Truck Experience. It's that second time this unique culinary experience – which is having great success in other towns and cities – is celebrated here.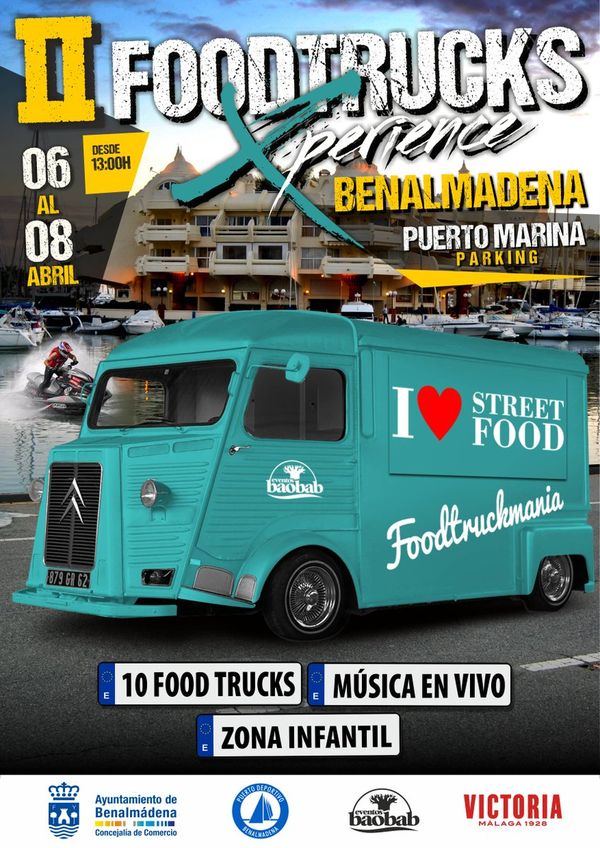 The event, which takes place from the 6th to the 8th April, kicks off the 'Food Truck Experience' calendar which has other experiences planned throughout the spring and summer season along the coast. Fancy tasting some of this yummy food? You just need to head down to the parking area of the Marina located on the East side of the Marina from Friday to Sunday. There should be a great buzz down there as the Food Truck Experience also offers live music performances throughout the day.
For those unfamiliar with the term 'Food Truck', this unique formula for preparing and selling food is having great success in other countries, especially in the United States where you'll find food trucks on, practically, every street corner. Visitors to the event will be able to enjoy the exquisite aromas and tastes of dishes from all over the world, prepared in each of the food trucks by expert chefs. The organisers expect a total of 10 food trucks for this tasty weekend!
The 'Food Truck Experience' will be open to the public from 1:00pm to midnight each day and will also offer live music from the roof stage of the special bus brought in for the event. Foodies will also be able to enjoy music sets from a DJ and the little ones will be kept busy in the kid's area set up next to the main food court area which has capacity for 200 people.
Below is an image showing the different types of food truck taking part in the event. There's one serving sweet treats, another with traditional American hotdogs, an Asian food truck, Mexican food, Cuban food, Uruguayan food, Pasta, German sausages and more. We know where we're going first, how about you? 🙂
If you're planning on visiting the Benalmadena Foodtruck Experience and need somewhere to stay, Sunset Beach Club hotel has comfortable apartment-style accommodation and fantastic facilities for a fun weekend away! Check availability and prices at www.sunsetbeachclub.com.