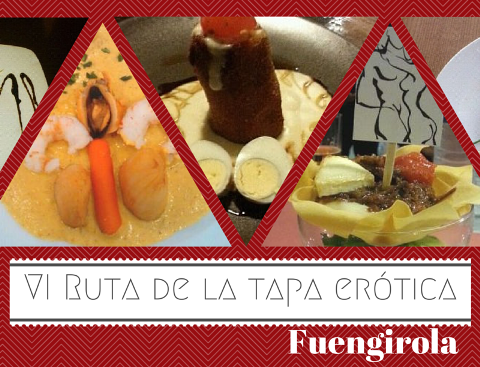 Fuengirola is getting ready for the 6th edition of its, now famous, Erotic Tapas Route (Ruta de la Tapa Erótica). 
From the 31st October to the 16th November, local residents and visitors to Fuengirola will be able to enjoy one of town's most popular events of the year and a must-visit for fans of the traditional Spanish tapa!
A hundred bars and restaurants have already signed up for this year's edition, that's twenty two more than last year! Of these one hundred businesses, twenty six are taking part for the first time and many are newly opened. There's no doubt that the popularity and success of the Erotic Tapas Route over the past few years has encouraged these high participation numbers.
So what exactly is the Erotic Tapas Route?
Each of the bars and restaurants taking part has to create a sensual and fun tapas dish using the best of ingredients and applying all their creative genius in its design and preparation. Each unique tapa has to be available to clients throughout the whole event.
One of the hardest and, perhaps, most challenging tasks is finding creative and suggestive names for all these tapas. Here's are a couple of crackers participants have come up with this year: 'Help, I need Viagra' and 'South of the Waistline'!
All locals and visitors are invited to take part in the 'Tapas Passport' competition. You can collect one of the 50,000 available passports in the Fuengirola Tourist Office, participating bars and restaurants or in local hotels. Due to the high levels of tourist participation in previous editions, this year there will be passports printed in English too!
In order to be included in the grand prize draw and for a chance to win one of the 39 fantastic prizes (including a cruise for 2 people), participants must get their passports stamped in 10 different establishments and include their vote for the best tapa. Once completed, the passport has to be handed in at the Tourist Office where you'll get a surprise gift for your troubles.
Are you planning on visiting the Fuengirola Erotic Tapas Route? If you do, don't forget to post a photo on the Sunset Beach Club Facebook Page 🙂