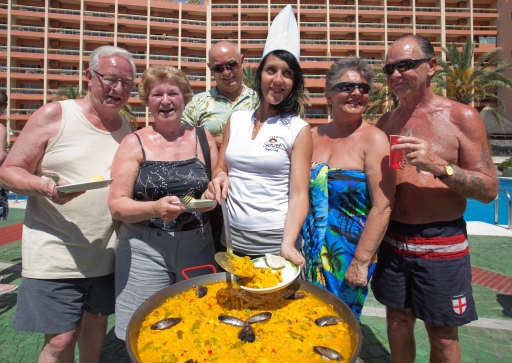 One of the most popular activities here at Sunset Beach Club is the Spanish Cooking lessons our animation team puts on for our guests every Wednesday.
The star of these cooking lessons? Spain's most famous and popular dish: The Paella.
There are many recipes and formulas that promise the secret to the 'Ultimate Paella'; however, the reality is that a Paella can be made with lots of different ingredients allowing the cooks creativity to shine.
If you go to Valencia (Where the paella originated) it'll look and taste different to the paella you'll find here on the Costa del Sol. The important thing is that they all taste amazing and make for a delicious and enjoyable meal 🙂
A while back we actually created a video which details how our animation team prepares their – now famous – paella. After undergoing a gruelling training course from our talented chefs, the animation team was ready to go out and show our guests how to make a paella… Sunset Style!
We've embedded the video of how to make a paella below, however, for those of you who prefer to see written instructions, we've included a list of ingredients and a simple step by step process too.
Equipment you will need
1 Paella dish (If you don't have one you can use a normal pan but try and make sure it's not too deep so that the rice and ingredients cook evenly)
Large wooden spoon for stirring
Cooker (gas is better but electric is ok too)
Ingredients List 
Note: We have not included quantities below because with a paella, it really depends on how many people will be eating. In the video you can see that the ingredients were for quite a large paella so you will have to adjust accordingly. If you miss out some of the less important ingredients (fish, beans, etc) it's no big deal, it'll still taste great… just experiment and create your own special paella. 🙂
Chicken, chopped into small pieces
White rice (short grain is better)
White fish
Prawns
Chopped Garlic
Chopped Red peppers
Peas
Green beans
Tomato sauce (Tomate frito)
Food colouring (or if you prefer you can use saffron)
Mussels
Clams
Garlic, parsley and oil mix
Chicken stock
White wine
Salt
Olive oil
Intructions
Add garlic, peppers and olive oil to the pan and stir.
Add the green beans and tomato sauce.
Add garlic, parsley and olive oil mix and peas
Add the chicken, fish and clams – mix well.
Throw in a few prawns…
Add a little food colouring (if you have it, saffron is even better).
The secret ingredient… pour in a measure of white wine (don't get carried away!).
Add a touch of salt.
Offer your guests a little tapa of crispy bread with a drizzle of olive oil and a pinch of salt (optional) A nice glass of Rioja would also be welcomed!
Pour in the rice (In the video we use a whole bag (approx 1 Kg) of rice.
Mix everything together so that the rice soaks up the juices and flavours.
Add the chicken stock so that the rice and other ingredients are covered.
Wait approximately 10 minutes until rice has absorbed all the stock. (Help yourself to another glass of Rioja!).
Add the mussels (face down) just before all the stock has been absorbed.
Remove from the stove and cover the dish with a kitchen cloth for a couple of minutes.
Serve the paella to your hungry guests.
So there you have it, the famous Sunset Beach Club paella recipe!
Do you think you'll give it a go? If so, be sure to let us know how you get on (in the comments below).
Bon appetit!