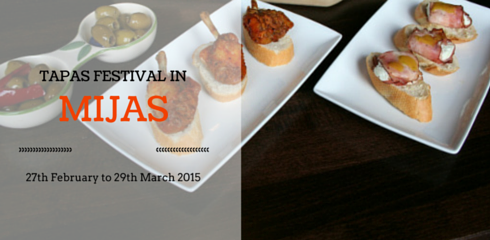 As from the 27th February – and until the 29th March – the white village of Mijas will celebrate it's Tapas Festival (Festival de la Tapa de Mijas).
Every weekend (Friday, Saturday & Sunday) participating bars and restaurants will offer their best tapas to all visitors. You'll have the chance to sample traditional and typical tapas dishes as well as more exotic and innovative recipes.
You can enjoy the Tapas Festival in each of Mijas' three municipalities: La Cala de Mijas, Las Lagunas and Mijas Pueblo. All the establishments which sign up to take part in the event will have to showcase one or two of their best tapas dishes, and offer them to the public during the Festival at the great price of just €2 each (including a drink). 🙂
The tapas which receive the most votes, both from clients and from a special panel of judges, will give the winning establishments the chance to win one of three fabulous prizes which will help them promote their businesses. We're talking about special advertising packages which include ads on local TV, newspaper coverage and radio adverts valued at €3000, €2000 and €1000 respectively.
If you'd like to take part in the voting process, you'll have to visit the festival and obtain at least 5 stamps in the special 'tapaportes' (passports for making a note of tapas consumed) which you can pick up at participating bars and restaurants. By voting, you'll also be entered into a prize draw to win discount vouchers and free consumptions at the winning bars and restaurants.
So, if you enjoy your tapas – and you're near Mijas from 27th February to 29th March – make your way over to the Tapas Festival and sample the best of Spanish tapas at bargain prices.