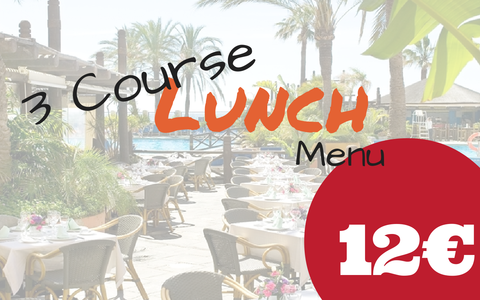 The terrace of our Oasis Restaurant is an ideal spot to enjoy a delicious lunch and take a break from sunbathing and swimming in the pool. 
For this summer, we've just introduced two fabulous offers which we're hoping will be a great hit amongst our guests. The first is a new 3 course menu for just 12€ per person. You get to choose from a wide selection of dishes including 7 starters, 12 main courses and 4 desserts. The price includes IVA (VAT) but does not include drinks. Check out the yummy dishes you get to choose from below:
Starters
Soup of the Day
Rustic Gazpacho
Spanish Omelette
Chef's Salad
Trio of Croquettes
Cod Fritters
Fried Squid with Alioli
Main Course
Dish of the Day
Fried Rosada
Grilled Swordfish with Tartar Sauce
Grilled Chicken Breast with Mushroom Sauce
Pork Chop
Pasta of the Day
Fried Squid with Alioli
Rump Steak with a Green Peppercorn Sauce
Plate of Paella
Desserts
Seasonal Fruit
Ice Cream
Cream Caramel
Rice Pudding 
And for children, there's a Kid's Menu for just 7€ which includes a drink!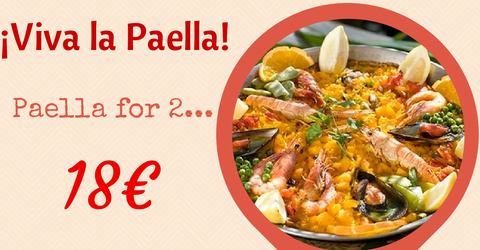 If you don't fancy a full 3 course meal, you can also try our new Paella Lunch Special…
Paella for 2 people for just 18€
Paella for 4 people for just 32€
Drinks are not included but we've got a great offer where you can choose from a bottle of house wine, a jug of Sangria or a jug of beer for just 9€!
Non hotel residents are more than welcome to come and join us and make the most of these great offers… just head to the Oasis Restaurant located on the first floor of Sunset Beach Club and enjoy a great value lunch!