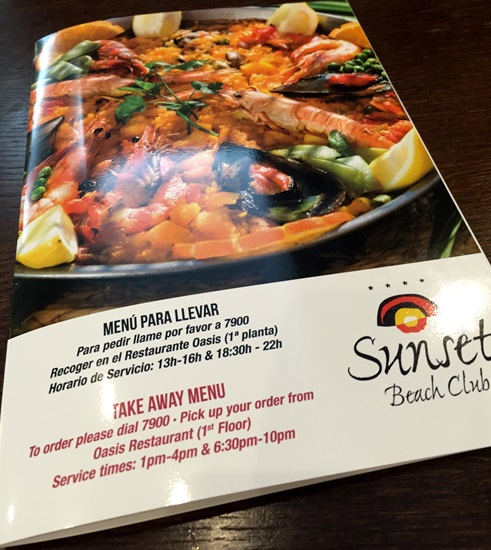 The beauty of our self-catering apartments is that you always have the choice to stay in and eat lunch or dinner on the balcony overlooking the Mediterranean (if you have a sea view, if not the mountains will have to do :-)).
Yes, our Oasis Restaurant is located nearby – on the 1st floor – but sometimes you don't feel like going to all the trouble of dressing up to eat in the restaurant; you'd rather just stay in your shorts or bikini and relax on your balcony.
And if the thought of having to go into the kitchen to prepare your own meal just doesn't appeal, you have the option of ordering something from the new takeaway menu available from the restaurant. There should be a copy of the menu on the coffee table in the living room. Just take a peek and see what you fancy and call the restaurant to order. Once the food is ready, you'll have to pop down to the restaurant to pick it up, or even better, send one of the kids down!
Whilst not as extensive as the menu in the main restaurant, our new takeaway menu does have some great dishes to choose from. Here's a quick peek at what you can order:
Starters:
Soup of the day
Calamari,
Spring rolls
Salads: Available in small or large portions
Main courses:
Paella (min. 2 persons): Choose between the mixed (meat & fish) or seafood versions.
A selection of juicy beef burgers.
Pasta dishes: Spaghetti Bolognese or Home Made Lasagne
Selection of yummy pizzas with large choice of toppings.
Asian dishes including chicken curry or wok noodles.
Desserts:
All our chefs sweet treats including cheese cake, Créme Brulée and chocolate cake
For families, we highly recommend the great-value special family menus…
Need extra side orders? The new menu has French fries, potato wedges and garlic bread which you can add to your meal.
Mum and Dad might want to relax on the balcony with a nice bottle of Rioja wine or bubbly… that's not going to be a problem as the takeaway menu also has a great choice of house wines, cava or champagne J
And if there's something on the regular Oasis Restaurant menu that you fancy, just ask one of our waiters… we don't want you going hungry now, do we? 😉
To order just dial 7900 from the phone in your room. Bon appetit!