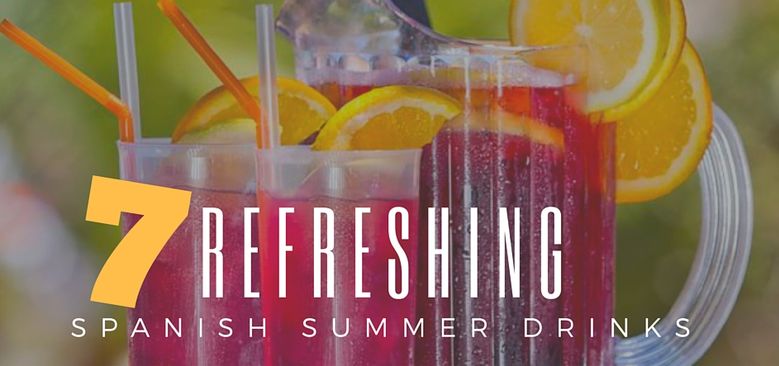 Summer will soon be upon us and it looks like we're in for a hot one! So we thought we'd put together a list of refreshing summer drinks to help ward off the heat and keep cool.
Many of these are alcoholic but it's easy to make them into non-alcoholic versions. You'll recognise a few of but we're sure there are some you've never heard of and may even seem a little strange… we recommend you try them all; you'll be pleasantly surprised.
For those of you who like to try out new drinks at home or would like to impress friends when you get home from your hols, we've included a list of ingredients and instructions on how to prepare each of these delicious summer drinks. Cheers!
#1: Sangría
Probably the most famous of Spanish summer drinks, the Sangria is still the king of summer drinks! Practically all restaurants and beach bars will have it on their drinks menu. Usually served in a large jug for sharing, this refreshing drink is deceptively easy to drink so you have to be careful not to over-do it!
If you fancy making it yourself at home to impress your friends next time you have a BBQ, here's a quick recipe to make you the 'King of Sangría':
Ingredients:
1 litre of Red Wine (Doesn't have to be Rioja!)
Half a litre of lemonade or soda water
Fresh Fruit chopped up (peaches, apples, oranges, lemons, pears all work well)
A cup of cognac
4 tables spoons of white sugar
Preparation
Pour the red wine into a jar and add the chopped fruit. Dissolve the sugar in a glass of hot water and add to the wine and fruit and mix well. Add the glass of cognac and leave to settle for a couple of hours so that the all the delicious fruity flavours mix with the wine. When ready to serve add the lemonade or soda and some ice cubes… mix well and serve!
#2: Kalimotxo
Don't be put off by the strange name… The Kalimotxo is a drink which originated in the Basque country but quickly became popular throughout Spain, especially amongst students and youngsters (Probably because it's cheap and easy to make). This refreshing drink mixes red wine and coke!!! We know, we know, sound awful but bare with us here. Just give it a try and we think you'll be pleasantly surprised.
Ingredients:
Red wine
Coca-Cola or any other cola drink
Slice of orange or lemon
Lots of ice!
Preparation
This one is easy… grab a glass and fill it with ice. Pour in the wine (half a glass) and then fill the rest with coke; add a slice of orange or lemon for a little extra taste.
#3: Tinto de Verano
Tinto de Verano or Summer Wine is another of the popular drinks to quench your thirst during the hot Spanish summer. It's so popular that many of the top soft drink brands actually sell ready made bottles of Tinto de Verano and many bars and restaurants actually have it on tap. But we prefer to make our own… it just tastes better 🙂 It's another red wine based drink mixed with lemonade or lemon. Here are the ingredients you'll need:
Ingredients:
Red wine
Casera lemonade is the original mixer but Sprite of Fanta Lemon are also great options!
Slice of lemon
Lots of ice!
Preparation
Fill a glass up with ice and pour in red wine to about a third of the glass. Fill the rest with the lemonade or lemon and serve with a slice of lemon.
#4: Sangria Royale
This is one of the specials down at Luna Beach Club… It's a white Sangria made with Cava and lots of other goodies. We managed to persuade the barman there to give us the ingredients but he won't reveal the exact measures so you'll have to experiment a little 😉
Ingredients:
Cava
Martini Bianco
Cointreau
Strawberry Liqueur
Lemonade (Sprite or similar)
Orange Juice
Chopped fruit (Strawberries, orange, apple and whatever takes your fancy)
Ice cubes
Preparation
We don't have the exact instructions but if you just put all the ingredients in a big jug, you probably can't go wrong 🙂
#5: Rebujito
If you've ever been to one of the local fairs here on the Costa del Sol, you'll have seen lots of people drinking a light coloured fizzy drink which is known as a 'Rebujito'. It's a crisp and very refreshing drink made with dry sherry and lemonade (Sprite or similar). It's a fantastic and thirst quenching cure to the hot summer days.
Ingredients:
Dry Sherry or 'Fino'
Lemonade
Lots of ice!
Preparation
Just fill a tall glass with ice and pour about a third of Sherry… the rest is lemonade.
#6: Granizado
A very popular drink during the hot summer months and found in many ice cream shops and bars. Made in large machines which swirl the crushed slush ice and lemon mixture, you can also find it in other flavours such as cola and strawberry. Our Salitos Bar even has a popular version which is Sangria flavour!
If you'd like to try and make your own version at home, here are the ingredients and instructions:
1 glass of water
1 glass of white sugar
6 lemons
3 or 4 glasses of iced wáter
Crushed ice
Preparation
Pour a glass of water in a pan and heat up. Just before it boils pour in the sugar and stir until it dissolves completely. Remove from heat and leave to cool.
Squeeze the 6 lemons into a jar and then pour in the water and sugar mix; shake well. Add 3 or 4 glasses of cold water and crushed ice and mix it all together. Add a few slices of lemon.
#7: Café con Hielo or Frappés
Café con Hielo is basically just coffee with ice. You'll see many locals drinking this refreshing pick-me-up after a meal to keep those batteries charged! It's usually made with a strong black coffee but there are lighter and creamier versions available… At Salitos Bar we do a Frappe iced coffee drink which is delicious (see photo). It has coffee, vanilla, hazelnut, cinnamon and crushed ice (eat your heart our Starbucks!) For a little 'kick', you can also add a drop of Tia Maria or Baileys 🙂
Ingredients for 'Café con Hielo':
Strong Black Coffee
Ice cubes
Preparation
Put some ice cubes in a short glass or tumbler and pour in the shot of espresso coffee!
So now you know what to order the next time you're looking for something different to drink whilst on holiday in Spain. And if you're feeling nostalgic when you get home from your hols, you've got the ingredients and instructions to make your own refreshing drinks and impress all your amigos!!! 🙂