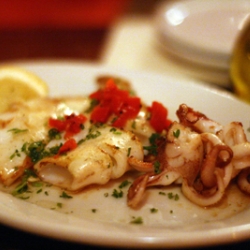 We're always looking for fun and interesting things for out guests to do whilst on holiday with us and we think we might well have stumbled across a great one here: Gourmet Tapas Tours in Malaga.
It's funny how we came across these unique tapas tours… they actually mentioned us on Twitter after having taken a group of guests who were staying at our hotel on one of their fabulous gastronomic tapas tours of Malaga. Turns out they've actually had over 30 groups of Sunset Beach Club guests take one of their tours so they must be doing something right 🙂
It's no secret that Malaga is quickly becoming a popular cultural destination for travellers from all over the world; the fact that it is a major stop for many of the worlds top cruise lines probably helps. This new found status as a trendy and cool city together with the wonderful gastronomic offering make it a must-visit for anyone visiting the Costa del Sol. TapasinMalaga.com have made the most of this new found popularity to put together some wonderful gourmet tapas tours which mix delicious tapas with a personalised walking tour of Malaga's city centre.
Michael and Laura, who run Tapas in Malaga, have both lived in Spain for many years and their knowledge of Malaga's history, culture and above all, its gastronomic delights is second to none. With their knowledge and guidance, you'll discover the best tapas Malaga has to offer.
When we say Tapas, we're not talking about the traditional 'pescaito frito' (fried fish), Jamon Serrano or manchego cheeses one would usually associate with Spanish cuisine (although you can get these too). Many of Malaga's 'new age' tapas bars now offer more contemporary, fusion-style tapas combining Asian and Spanish cuisine to provide the ultimate experience for food lovers.
5 Great Tapas Tours to Choose From
Tapas in Malaga offer five different tours for you to choose from; we've listed each below with a list of what's included in each: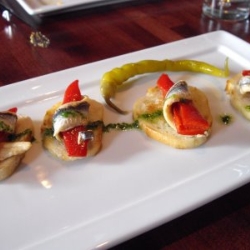 1)      Lunchtime Food Market & Gourmet Tapas Tour
Available every day except Sundays, this tour lasts approximately three and a half hours and includes a visit to the 'Mercado Central',Malaga's famous fresh food market. You'll get to sample delicious tapas in four of your hosts favourite tapas bars; not the bars you'd find in your typical Lonely Planet Guide, these are hidden gems used by locals. This tour includes the following:
Visit to 4 different tapas bars
2 tapas and a drink (wine, beer, fino, sherry or soft drink) in each bar
Tour of the city's historic centre
2)      Evening Gourmet Tapas Tour
This seems to be one of the most popular tours (from what we've read on Tripadvisor) and is available 7 evenings a week. Lasting approximately 3 hours, you'll get to experience the sites and sounds of Malaga as night falls. Here's what's included:
Visit to 4 different tapas bars
2 tapas and a drink (wine, beer, fino, sherry or soft drink) in each bar
Tour of the city's historic centre
3)      Flamenco & Tapas Tour
This is a true Spanish evening which includes a fabulous and authentic Flamenco Show. Lasting approximately 4 hours, this tour includes the following:
Entrance to Flamenco Show plus a drink
Visit to 3 tapas bars (two before the show and one after)
Tapa and drink in each bar
Available Thursday, Friday and Saturday
4)      Personal Shopper & Tapas
The Personal Shopper and tapas tours are individually designed to your needs. You'll be accompanied by a personal shopper who will guide you through the busy city centre streets and show you the best shops in Malaga. All that walking will be tough work but you'll be rewarded with various 'tapas stops' along the way 🙂
5)      Picasso, Art and Gourmet Tapas Tour
This one's ideal for art and food lovers. Available every day except Monday (museums are closed) you get to choose from two museums to visit: Picasso or the Thyssen. Your visit to the museum will be followed by a two and a half hour Tapas Tour.
If you're still in doubt as to whether these Tapas Tours are right for you, we recommend you take a look at their Tripadvisor page where they have a highly impressive collection of 4 and 5 star reviews.
3 Helpful Tips from Tripadvisor Reviewers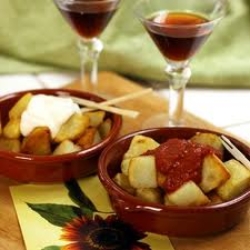 A quick browse through their Tripadvisor reviews reveals some handy tips…
Take the tour on the first night of your holiday so that you've then got a great list of recommended restaurants for the rest of your holiday or future stays.
Give a Gourmet Tapas Tour to friends or family as a unique and 'different' birthday gift.
A great way to get an 'insiders' view of Malaga's city centre, learn all about its history and get a valuable list of the city's best tapas bars.
For more information about Tapas in Malaga and to see pricing for each of these amazing tapas tours, you can visit Michael and Laura's website at www.tapasinmalaga.com
Have you been on a Gourmet Tapas Tour in Málaga? What did you think? We'd love to hear about your experience in the comments below 🙂
Note: Sunset Beach Club hotel is conveniently located on the sea front in Benalmádena and just 20 minutes from Malagacity centre. Visit www.sunsetbeachclub.com to see our fabulous Winter Rates starting from just €54 per night for an exterior apartment.