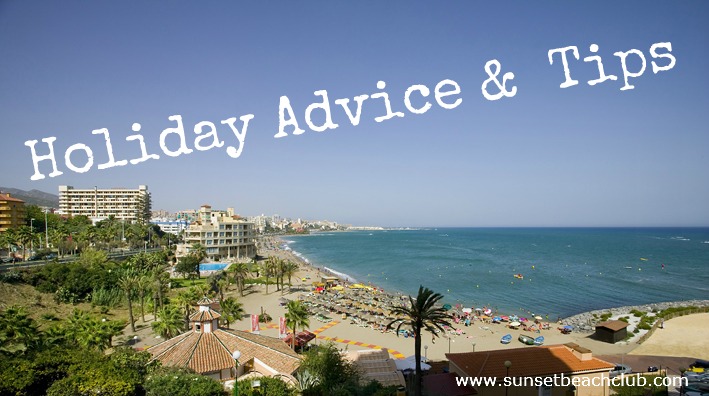 Summer season is in full swing as the Costa del Sol welcomes visitors from all over the world. Every year, we put together a small list of holiday tips and advice which we hand over to all guests staying at Sunset Beach Club.
Sometimes, when you arrive on holiday, the excitement of getting out to the beach or pool often makes you forget some important – and often simple – safety and health recommendations; that's why we put this little list together, not to alarm you, but to help ensure that you have a wonderful and incident free holiday 🙂
Here's our 12 holiday tips and advice:
Security
1)      We advise you to leave valuables in the safe.
2)      Passports are best left in the room unless you plan to shop with credit cards (Most shops require photo identification).
3)      If leaving the hotel (beach, excursion, dinner, etc) only take the required amount of money with you.
4)      Never leave bags unattended, particularly on public transport and in crowded areas.
5)      A good precaution is to keep a separate note of your card, passport and medical insurance details.
6)      If you are using a vehicle, lock any valuables out of sight.
Health
1)      Keep hydrated. Drink lots of liquids throughout the day – No, alcoholic beverages are not regarded as liquids in this instance!  Be really careful mixing the sun and alcohol.
2)      Tap water is safe; however, we recommend you use bottled water.
3)      Avoid excessive alcohol during the day (the effects increase greatly with heat).
4)      Avoid sunburn by wearing appropriate clothing and applying appropriate sun protection.
5)      Take special care with children. Keep them well hydrated throughout the day and apply high factor sun cream.
6)      A doctor's surgery is run on the 6th floor of the hotel every morning (except Sundays) between 10am and midday (12pm) – Charges apply.
We hope you find these tips useful and would love to hear from you if you have any others we could add to the list. Feel free to post them in the comments below. 🙂