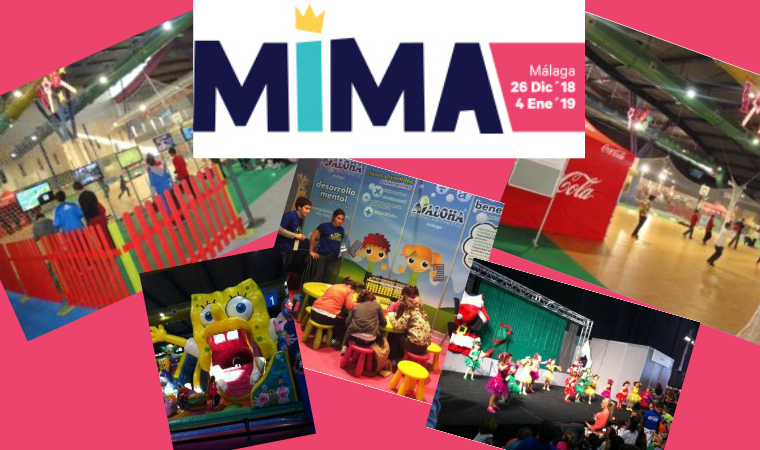 If you're spending the Christmas Holidays on the Costa del Sol and have kids, you're probably looking for ideas of things to do to keep them busy…
Well, a visit to Malaga's MIMA Children's fair is a great option for a fun day out for all the family. This fabulous event is now entering its 15th year and was originally conceived to provide a large, fun and educational space where kids and parents could enjoy a wide selection of activities and attractions over the Christmas holidays.
Located in the 'Palacio de Ferias y Congresos de Málaga' (Malaga's Exhibition Centre), the MIMA fair is fully protected from the weather which means you've got something to do on those rare cold and rainy days. The indoor adventure park offers a wide selection of leisure, educational and sport-related activities where kids aged 3 to 12 can have fun whilst learning.
MIMA is without a doubt one of the most popular events for kids over the Christmas period, an event that last year managed to attract more than 30,000 visitors!
This year MIMA has completely re-vamped its leisure and educational programme and will feature more attractions and activities for all the family. Sports, technology, environmental and social related activities all play an important role in this new-look MIMA Children's Fair.
This new edition will also aim to develop useful daily skills for kids in the company of adults with a special area with workshops on the following subjects: Cooking, first aid, gardening and looking after pets. Promoting science, photography or personal care are some of the other workshops available in this edition.
Sports and physical activity are an important part of this Children's Fair and this year visitors will be able to enjoy new areas and disciplines such as Judo, Rhythmic Gymnastics, Tennis or Paddle Tennis. The attractions area will also feature Zip Lines, 'Jumpings' and 'Wipe Out' style assault courses.
We must also mention the Technology Area with 100% experiential activities on latest generation video consoles, virtual reality, robotics, programming and a special area dedicated to Social Media. Lastly, the main stage area will allow visitors to relax and enjoy the wide selection of exhibitions and shows taking place throughout the fair; sports exhibitions, dancing, fashion shows, games, competitions and theatre.
So what attractions and activities will you find here? Here's a short summary…
Attractions
Planetarium: This is actually the largest mobile planetarium in Spain which will project the film 'From Earth to the Universe'. There will be 8 daily sessions (the film is 30 minutes long): at 11:30am, 12:30pm, 1:30pm, 4:00pm, 5:00pm, 6:00pm, 7:00pm and 8:00pm.
Snow Mountain: A large inflatable 'mountain' with a 9-metre tall slide for kids and parents to slide down.
Jumpings: This year there will be 16 of these trampolines/catapults due to last year's high demand.
Bumper Cars for kids and adults: This is one of the most popular attractions amongst the kids who attend the fair and, since last year, also for adults.
Trampolines: Two areas with a total of 12 trampolines.
'Wipe Out' area: An inflatable 30-metre-long obstacle course.
Ranita Saltarina: The 'Jumping Frog' is one of the most popular mechanic fair attractions at MIMA.
Inflatable Castles: 3 inflatable castles with different themes: Paw Patrol, Cars and Fantasia.
Unicaja Foundation Area
The Unicaja Foundation is one of MIMA's main sponsors and will once again have a dedicated area with activities and attractions.
Basketball court
Visit from the Unicaja Basketball team on the 26th December
Inflatable games area with a surf simulator, Spiderzone (slide and climbing area) and an assault course.
Lego area featuring characters from Harry Potter.
Multiple activities like magic, science workshop, virtual reality games, music and dance, family gymkhana and lots more!
MIMA Sport
In addition to the Basketball courts which we mentioned above, these are some of the other sports you'll be able to enjoy at MIMA…
Football : There will be daily tournaments featuring teams from all of the Málaga province.
Yoga (26th December)
Zumba Go fit (27th December)
Kangoo Jumps (28th December)
Ciclo Indoor go fit (29th December)
Skating (30th December)
Table Tennis (2nd January)
Qi-Gong (3rd January)
Badminton (4th January)
Workshops
The dedicated workshop area will offer a wide selection of activities for kids who visit this part of the fair. There are dozens of them but here are some of our favourites:
Bookmarking workshop.
Bilingual storytelling.
Handcrafts workshop.
ONCE mobility circuit where kids will be able to put themselves in the shoes of a blind person.
Rubik's Cube workshop (27th December to 2nd January).
Science workshops: Blowing up balloons with vinegar, making slime and lots more.
Opening Hours
Open from Tuesday 26th December to Thursday 4th January (2018) from 11:00am to 9:00pm. Closed on the 31st December and 1st January.
Entrance Prices
Kids (4 to 12 years of age): €8
Kids 0 to 3 years of age: Free entrance
Adults: €4
Pensioners: €3
Have a wonderful Christmas and a Happy and Prosperous New Year!