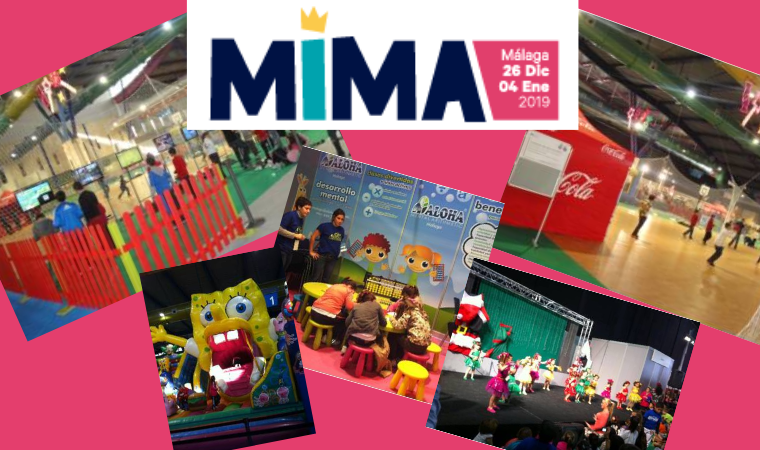 If you're spending the Christmas Holidays on the Costa del Sol and have kids, you're probably looking for ideas of things to do to keep them busy…
Well, a visit to Malaga's MIMA Children's fair is a great option for a fun day out for all the family. This fabulous event is now entering its 16th year and was originally conceived to provide a large, fun and educational space where kids and parents could enjoy a wide selection of activities and attractions over the Christmas holidays.
Located in the 'Palacio de Ferias y Congresos de Málaga' (Malaga's Exhibition Centre), the MIMA fair is fully protected from the weather which means you've got something to do on those rare cold and rainy days. The indoor adventure park offers a wide selection of leisure, educational and sport-related activities where kids aged 3 to 12 can have fun whilst learning.
MIMA is without a doubt one of the most popular events for kids over the Christmas period, an event that last year managed to attract more than 30,000 visitors!
This year MIMA has completely re-vamped its leisure and educational programme and will feature more attractions and activities for all the family. Sports, technology, environmental and social-related activities all play an important role in this new-look MIMA Children's Fair.
The main stage area will allow visitors to relax and enjoy the wide selection of exhibitions and shows taking place throughout the fair; sports exhibitions, dancing, fashion shows, games, competitions and theatre.
So what attractions and activities will you find here? Here's a short summary…
Attractions
Snow Mountain: A large inflatable 'mountain' with a 9-metre tall slide for kids and parents to slide down.
Jumpings: This year there will be 8 of these trampolines/catapults.
Bumper Cars for kids and adults: This is one of the most popular attractions amongst the kids who attend the fair and, since last year, also for adults.
Trampolines: Two areas with a total of 12 trampolines.
'Wipe Out' area: An inflatable 30-metre-long obstacle course.
Zig-Zag: Endless spins and turns in this fun family ride.
Ranita Saltarina: The 'Jumping Frog' is one of the most popular mechanic fair attractions at MIMA.
Inflatable Castles: 3 inflatable castles with different themes: Minions, Sponge Bob & Peppa Pig.
Unicaja Foundation Area
The Unicaja Foundation is one of MIMA's main sponsors and will once again have a dedicated area with activities and attractions.
Basketball court
Visit from the Unicaja Basketball team on the 26th December
Inflatable games area with Spiderzone (slide and climbing area), Freefall and more!
Multiple activities like magic, science workshop, virtual reality games, music and dance, family gymkhana and lots more!
MIMA Sport
In addition to the Basketball courts which we mentioned above, there is also a football pitch where kids will be able to take part in daily competitions.
Workshops
The dedicated workshop area will offer a wide selection of activities for kids who visit this part of the fair. There are dozens of them but here are some of our favourites:
Bookmarking workshop.
Bilingual storytelling.
Handcrafts workshop – painting and colouring
Recycling workshop
Musical workshop with glasses
Virtual reality workshops
Bioparc workshops
Aula del Mar
Opening Hours
Open from Thursday 26th December to Saturday 4th January (2020) from 11:00am to 9:00pm. Closed on the 31st December and 1st January.
Entrance Prices
Kids (4 to 12 years of age): €8 (€7 if you buy online HERE)
Kids 0 to 3 years of age: Free entrance
Adults: €4 (€3 if you buy online)
Have a wonderful Christmas and a Happy and Prosperous New Year!