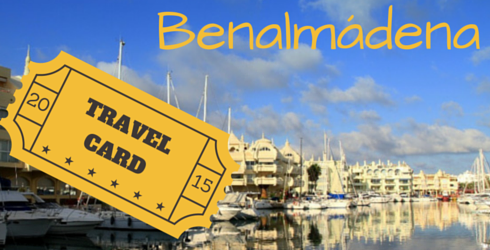 If you're a regular visitor to Benalmádena, spend long periods of time here over the winter months and use public transport regularly when you are here, there's a fantastic way to do so at significantly reduced rates… buy a Travel Card!
Designed for locals and visitors who travel frequently, the cheaper fares available through these Travel Cards and their ease of use make it great companion on your local travels exploring Benalmádena and Málaga. According to one of our guests who recently made use of the Travel Card, a local bus fare which usually costs 1.55€ will only cost you 1.08€… that's a 44% discount! If you plan on using the bus regularly, the savings can be considerable.
The travel cards are available at local tobacco shops (the nearest to Sunset Beach Club is just in front of the Bil-Bil Castle, 5 minutes from the hotel) and require leaving a deposit of €1.80 which is refundable when the card is returned. You need to charge the card up with a minimum of €5 as well as configure it for the most frequent type of journey you plan to make (just within Benalmádena or with the option to travel to Málaga).
Where you can use the Travel Card?
The beauty of the travel card is that you can use it on various methods of transport in the Málaga area, for example:
On local buses here in Benalmádena.
On local buses in Alhaurin de la Torre and Málaga City.
On the train that takes you from Benalmádena to Málaga. You can use the card to purchase tickets from the machines located inside the train stations.
With Málaga's public bicycle loan scheme (Malagabici). A great way to explore the city and take in its cultural treasures!
On underground trains in Málaga – and if you travel to Seville, they work there too (Granada will also be available soon).
So how does the Travel Card work? What do you have to do?
As mentioned above, your card will be configured for the most frequent type of journey you make (0, 1, 2 or 3 fare crossings).
Once you climb onto the bus, you'll need to tell the driver where you'd like to go before entering your card in front of the electronic reader. Once you've swiped your card over the reader it will automatically be charged the price of the fare in accordance with the fare crossings for which it has been configured. The machine will then issue a physical ticket indicating the cost of the fare. Confused yet? Bear with us, it seems a little complicated but it's worth the hassle as the savings are considerable. 🙂
One of the advantages of the travel card is that you can purchase tickets for up to 15 passengers with the one card, just bear in mind that all tickets must be purchased within a 3-minute window.
The configuration process for the cards is a little complex and they can only be configured for one type of journey at a time. However, you are free to change the configuration every time you top up the travel card.
Let's take an example. You plan to travel around Benalmádena for a couple of days getting to know our wonderful city and all its fun tourist attractions. In this case, you should configure the card for 0 or 1 fare crossing and charge it with enough money to get you around for a couple of days.
After you've explored Benalmadena, you decide you'd like to go into Málaga and discover the city's breathtaking cultural attractions. In this case, you'll configure the card for the appropriate number of fare crossings (we think it's 3, but ask the attendant just in case) and top it up with enough money to allow you to jump on and off buses and trains.
And if your card doesn't work?
Technology is unpredictable, even at the best of times. Whilst on your travels, you may encounter problems with your card or, more specifically, with the card readers.
If this were to happen, you should present the card to the bus driver and tell them your destination. You'll then have to make payment in cash and the driver will register your card number in the chip card machine, handing you a reimbursable ticket containing details of the amount you've paid and the type of trip.
A refund for the difference of the amount paid for the reimbursable ticket and the ordinary discounted fare for said trip will be made automatically when you recharge your travel card. Please bear in mind that his refund process could take up to 3 months!
So as you can see, the Travel Card can really come in handy if your planning to use public transport on a regular basis. Even better, you can save up to 44% on each fare!
Have you made use of the Travel Cards whilst on holiday in Benalmádena? What did you think, is it worthwhile using? Let us know in the comments below.
If you're looking for somewhere to stay in Benalmadena, be sure to check our www.sunsetbeachclub.com. Our seafront location and apartment-style accommodation make us a great-value option for your Benalmadena holiday.