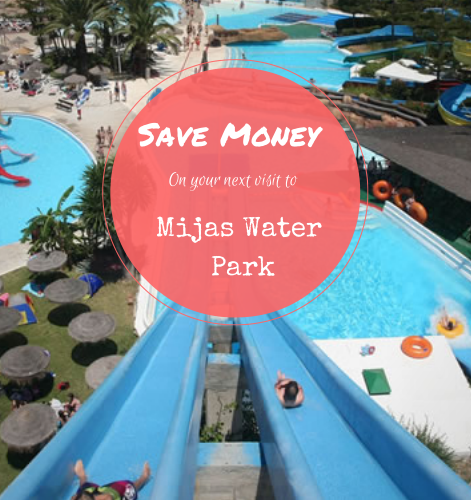 One of our favourite local attractions, Mijas Water Park (Parque Acuático Mijas) opens today for the new season.
Knowing that many of our guests are regular visitors to this popular water park, we thought we'd give you a few tips on how you can save a few Euros next time you and the family decide to spend the day shooting down water slides!
Although great fun, water parks such as the one in Mijas can prove to be a seriously- expensive day out, especially if you have a big family! The normal prices for a day at 'Parque Acuático Mijas' are as follows:
Adults – 23€
Junior (8 to 12 years) – 17€
Children (3 to 7 years) – 12€
Seniors – 15€
You don't have to be a genius to realise that, if you are a family of four, a day on the water slides is going to set you back at least 70€ – ouch!
But fear not, here are a few tips to save, at least a few euros, on your next visit to Mijas Water Park:
1) Buy your tickets online: If you go to the official website and buy your tickets beforehand, you'll get a 10% discount. Whilst not an amazing discount it'll pay for the icecreams 🙂 Go HERE to get your discount.
2) Purchase a Family Ticket: For 58€, a family of four (2 adults and 2 children aged 3 to 7) can enjoy a full day at the MijasWaterPark. This is a saving of 12€ on the normal price. Don't forger, if you buy this ticket online, you'll get an extra 10% discount, effectively paying just 52.20€ for the family ticket.
3) Go in the afternoon: If you go after 2:30pm (3:30pm in July & August) you get a 30% discount on the entrance ticket. The park is open until 7:00pm in July and August so you get to spend three and a half hours in the park, still plenty of time to try all of the great rides 🙂
4) Make use of discount coupons & offers: If you visit this page of the Mijas Water Park Website, you can print out some great coupons and offers to use whilst in the park. Here's a few examples of the coupons you can download and print off:
Free game of mini-golf
Free drink & icecream
Free sunbed or security box
Discounts on entrance ticket
Discounts on menus in the restaurant
Please note that there are terms & conditions for these coupons; however, most just require the purchase of a ticket to the park in order to be valid.
So, the next time to plan a day out at Mijas Water Park, remember the above tips so that you can save yourself a few euros and make your water park experience that little bit more enjoyable.
Info & Opening Times for 2014 Season at Mijas Water Park
Season starts on Monday 28th April and ends Thursday 2nd October 2014.
Opening Times: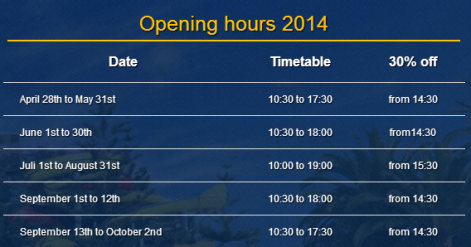 If you're staying with us at Sunset Beach Club and would like more information about the Mijas Water Park, please stop by our Leisure Desk and speak to Susanna 🙂
If you're looking for a fun family hotel nearby, Sunset Beach Club hotel in Benalmadena Costa offers fantastic facilities and activities for a fun family holiday. See for yourself at www.sunsetbeachclub.com.