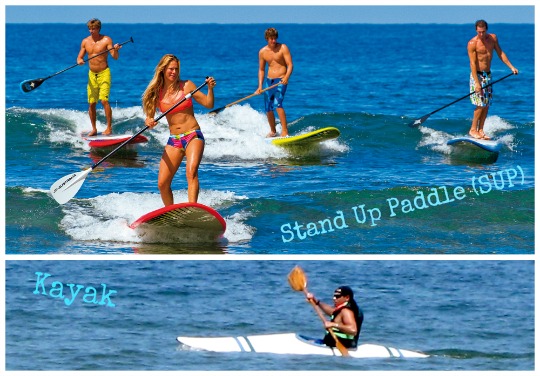 Have you ever tried Kayaking? How about the latest water sport craze, SUP (Stand Up Paddle)?
Both of these fun activities are available on many of the Costa del Sol's beaches and for just €35 per day, you can enjoy a wonderful day out paddling on the Mediterranean whilst experiencing our amazing coastline from a completely different perspective!
Another added benefit is that a day out in a kayak or standing on a surf board will certainly help burn off those extra calories many of us tend to put on whilst on holiday 🙂
At Sunset Beach Club we work with Christopher's Kayak who provide a fantastic delivery and pick up service to make the whole rental process simple and painless. If you're staying at Sunset Beach Club and interested in trying out these fun activities, all you need to do is ask at the leisure desk located next to reception and they'll take care of everything for you.
There are various rental options which we've outlined below:
The prices below apply to single Kayak's and SUP's.
Half day rental (4 hours or less) – From €25
Full day rental (6am to 7pm) – From €35
Feel you could do with a quick lesson before heading out to sea? That's not going to be a problem as our friends at Christopher's Kayak provide special introductory courses and even guided tours, if you prefer to have someone show you the best places to go and provide interesting information about the area.
If you think you might like to stop off at one of the nearby coves or bays, why not do a little snorkelling? For just €10 extra, you can rent a full snorkel package which includes a full face snorkeling mask and fins.
Would you prefer to do a little fishing? We've got you covered… just rent a full fishing package complete with rod, reel and hooks for just €10 per day 🙂
So what are you waiting for? Head on over to the Sunset Beach Club leisure desk and book a fabulous day of adventure aboard your very own kayak or SUP. You'll love it!