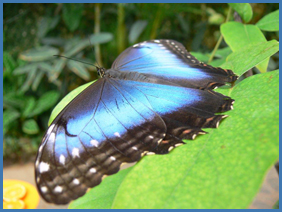 As from tomorrow (Friday 25th March) Benalmadena will be the home of the largest butterfly park in Europe. This new 2000 square metre installation had been built to resemble a traditional Thai building and will prove to be a favourite amongst locals and tourists alike.
This unique initiative has been backed by the Benalmadena Town Hall which has provided the plot on which the park has been built; this initiative will only help to strengthen Benalmadena's position as the Costa del Sol's leading resort for family holidays.
The Butterfly Park's main building includes a glassed tropical garden which has a surface area of over 900 square metres and is 8 metres high; this is where visitors can experience the beauty of more than 1500 exotic butterflies in full flight.
Throughout the year, visitors will have the opportunity to see more than 150 different species of butterfly, many originating from tropical areas around the world. Apparently, 70% of the specimens in the park are self-produced and the remaining 30% are imported from their country of origin.
One of the highlights of the park is the fact that the butterflies are actually flying around the visitors, who get to observe their behaviour from a privileged position. The experience becomes even more special as visitors get the opportunity to observe the different biological cycles and transformations the butterflies go through. Everyday, a new specimen is born; visitors can watch as the butterflies break out of their cocoons and spread their colourful wings for the first time.
A few interesting facts about the Butterfly Park in Benalmadena:
1)      Did you know that butterflies have an average life expectancy of two weeks? This means that the park's population is renewed every 15 days!
2)      The parks biggest challenge is maintaining the climate control within the building as these species require very special living conditions: between 24 and 28ºC and 70º humidity.
3)      In order to give the park a true Thai look, many of the construction materials and decoration were imported from Thailand.
4)      The blue tiles that cover the entrance were specially made in Chiang Mai.
5)      The developers chose a Thai theme in order to blend in with the Buddhist Temple located next to the park.
Visitors are more than welcome to take photos whilst in the Park (including flash) and entrance tickets are priced as follows:
Adults – €9.50
Children from 3 to 12 years – €5
Pensioners – €7.50
Disabled persons – €7.50
How do I get there?
If you plan to travel by car, take exit nº217 off motorway A7. The Butterfly Park is located next to the "Stupa" Buddhist Temple in Calle Muérdago.
If you would prefer to take the bus, just hop onto the Line 2 bus which stops outside Sunset Beach Club.
For more information, please visit the Butterfly Park website.