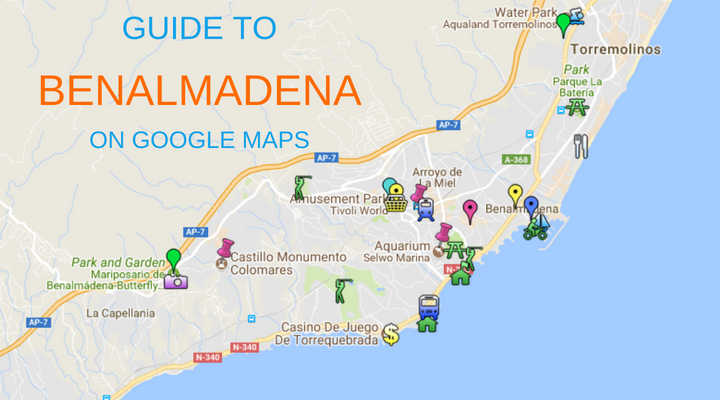 Are you planning on visiting Benalmadena for the first time?
Do you need a guide to Benalmadena?
Although we get many repeat guests at Sunset Beach Club, many are first timers and as a result, often require local information to help them get around.
Our Leisure Desk staff are more than happy to provide guests with local information and a long list of things to do; however, its handy to have a quick reference at hand before travelling so that you can plan your activities and decide where to go and what to see.
That's why we prepared our quick guide to Benalmádena on Google Maps. If you click on the link below, you'll be taken to our tailor-made map which includes a list of places to see and things to do in the Benalmádena area. Here are just some of the interesting places highlighted on the map:
Puerto Marina (Benalmádena Port)
Selwo Marina
Sealife Park
Tivoli World
Parque La Paloma
Aqualand
Bioparc Fuengirola (Zoo)
Butterfly Park
Cable Car
And lots more…….
The map is by no means finished; we will constantly be adding new locations to it. If anyone has any suggestions as to places to include on the map, please let us know in the comments below!
Are you looking for accommodation in Benalmadena?
At Sunset Beach Club we have comfortable apartment-style accommodation and fantastic 4-star facilities for you to enjoy a fantastic holiday in the sun. Visit www.sunsetbeachclub.com for more information and to check availability online!