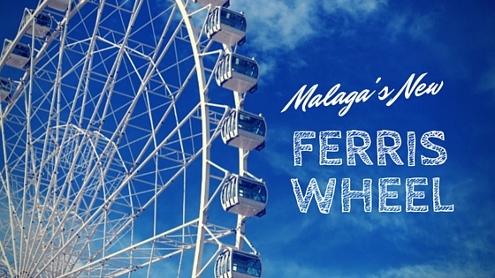 A visit to Malaga's city centre provides a multitude of interesting activities and attractions and, since last September, there's a new attraction which will allow you to view the city's beauty from a unique and privileged position: The Malaga Ferris Wheel!
Located at the entrance to the port, parallel to the Muelle de Heredia (next to the Ferry terminal) this impressive 70 metre-high structure offers visitors stunning 360º views of Málaga city and beyond. Apparently on a clear day, you can see up to 30 Kilometres!
This gigantic 600-ton structure has been aptly named the 'Mirador Princess' and is, apparently, the largest transportable attraction in Europe! Yes, you read that right, the new ferris wheel can be moved from city to city. It took 25 trailers to transport the wheel from its previous location in Andorra and just 2 weeks to put together! For the moment, the port authority has issued the operating company an eight month operating license, although this is renewable.
The 'Mirador Princess' is equipped with 42 glass cabins, all fully air-conditioned and comfortably seating up to 8 people. The cabins are also decorated with LED lights which make the attraction even more impressive as night falls.
A trip lasts approximately 15 minutes which allows for 3 full turns of the wheel; plenty of time to get some gob-smacking photos or video of Málaga from above.
To give you an idea of what to expect, we've embedded a video below. As you'll see, the views really are unbelievable!
Open every day from 11am to midnight, the new ferris wheel is also suitable for disabled people. Prices vary depending on age but here's a quick breakdown of what it'll cost to jump aboard:
Adults: 10€
Families: 7€ per person
Groups (minimum 6 persons): 8€ per person
Over 65's: 8€ per person
Kids up to 80cm in height: Free
Kids from 80cm to 120cm: 6€ each
Have you been on Malaga's New Ferris Wheel? What did you think? Let us know in the comments below and don't forget… if you're planning a trip to the Costa del Sol, at Sunset Beach Club we offer comfortable apartment-style accommodation and extensive facilities for a fun break. And we're just 20 minutes-drive from Malaga city centre. 🙂 Check availability and prices at www.sunsetbeachclub.com