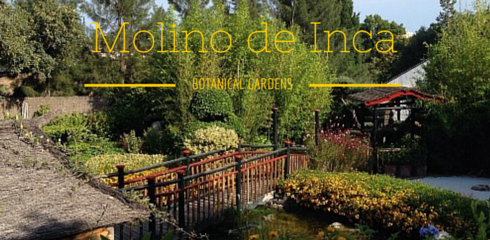 Torremolinos has a little hidden secret which very few visitors and tourists know about: The Molino de Inca Botanical Gardens.
Located just behind the popular Aqualand Water Park, this small, yet stunning, botanical garden offers a little piece of paradise to all who visit. Although the gardens are just 20 minutes walk from the hustle and bustle of the hectic town centre, you actually feel like you're miles away from anywhere.
The gardens are beautifully laid out with a vast selection of plants, trees and flowers all complemented by unique water features and statues. It truly is a little 'oasis' paradise where you can relax to the sound of running water. If you are growing some trees check out the tree care guide.
The gardens get their name from the old flour mill which still exists today and has been turned into a museum. A visit to this unique building provides an informative and interactive (lots of buttons to push) experience for all the family as well as an insight into the workings of this historic 15th century land mark.
A small stream flows through the gardens and winds its way to three different ponds and pools full of aquatic plants, diverse species of fish and birdlife. Surrounding these water features are more than 300 species of trees and more than 150 species of palm tree.
A key feature of the gardens is the incredible natural maze which boasts a 100 foot pine tree as centrepiece; at 50 metres in diameter, it makes for a fun adventure.
As you walk through the gardens you'll also come across four stunning statues made from pink Italian marble which symbolize the four seasons as well as other impressive sculptures located throughout the grounds.
The gardens stunning beauty is complemented by an abundance of wildlife including a collection of exotic birds including falcons, owls and colourful parrots, all housed in special cages.
One of the newest additions to the Botanical Gardens, and a must-see, is the Zen inspired Japanese water garden with its impressive collection of bonsai trees. As you can see below, it certainly makes for a great photo!
The Molino de Inca Botanical Garden offers visitors a pleasant visit and a fantastic way to spend a couple of relaxing hours. If you're visiting during the summer months, it's a great place to keep nice and cool!
Priced at only €1, it's a no-brainer and well worth the trip up there. Whist not the easiest place to find (we recommend taking a taxi), you should definitely add it to your 'To do' list. For those who are more adventurous, we've embedded a map which pinpoints the exact location.
A quick word of caution… due to its location, the Botanical Garden has quite a few steps and slopes and is probably not ideal for the physically impaired.
If you're staying with us at Sunset Beach Club and are interested in visiting the Molino de Inca Botanical Gardens, you can grab more information at our Leisure Desk located on the 6th floor.
If you're looking for a hotel near the Botanical Garden, Sunset Beach Club is located on the seafront in Benalmadena Costa, just a 10 minute drive away. With comfortable apartment-style accommodation and excellent facilities, it's a fantastic choice for a holiday on the Costa del Sol. You can see photos and more information at www.sunsetbeachclub.com.