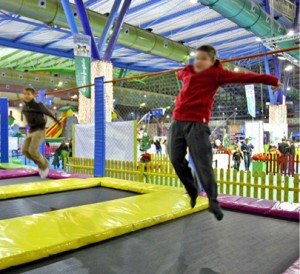 There's not long to go now… In just over 2 weeks time, one of the most eagerly awaited events of the Christmas period – at least it will be for kids – starts at the Málaga Convention Centre (Palacio de Ferias y Congresos de Málaga): The MIMA 2011 Children's Fair.
Lasting 8 days, this yearly  fair provides fun for all the family with more than 60 activities, attractions, video games, sports activities, workshops, children's theatre and more!
From the 26th December to the 4th January, the Malaga Exhibition and Convention Centre will become a true wonderland for kids and adults alike. If you are on holiday and the weather isn't looking to good, this is the perfect place to take the kids for a day out!
There will be something for everyone; the following are some of our favourites:
For Videogame buffs… there will be a large area dedicated to the latest trends and updates in the video games world; we're talking Wii's (with "Wii Dance Festival" included), Play Station 3, Nintendo DS and PSP's. Mum's and Dad's will also have their own Arcade area; they're entitled to a little fun too 😉
For the more adventurous and sporty… The organisers have arranged a wide selection of sports activities and facilities, for example; basketball courts, 7-a-side football, pedal go kart circuit and a bicycle circuit. An ecological ice skating rink, rock climbing wall, zip line, aqua sphere pool and paintball area complete the list of fun activities.
For those who enjoy learning… There will be special educational workshops about environmental issues and road safety, arts and crafts and face painting.
And for the rest of you… A whole load of fun with bumper cars, the Zigzag (haven't a clue what that is, but sounds fun!), bouncing castles, pool tables, Karaoke and mini golf.
Some of the fairs highlights include magic shows, acrobatic exhibitions, children's plays and Christmas galas.
So how much is all this fun going to cost me? Children aged 2 to 13 pay €6 and adults pay €5 – great value considering all the activities available!
The fair opens at 11am and closes at 9pm (please note that the fair will remain closed on the 31st December and the 1st January).
If you're staying at Sunset Beach Club, we're only about 15 minutes (by car) from the MIMA children's fair 🙂