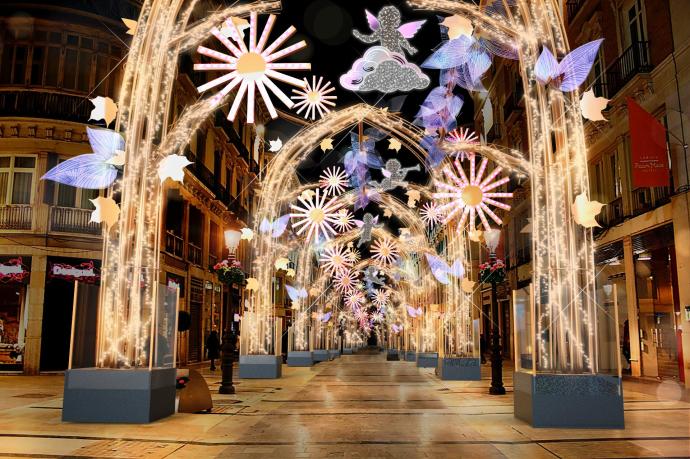 If you're planning on visiting the Costa del Sol this Christmas, you've got to visit Málaga City Centre to see the stunning Christmas Light display and show in the city's famous Calle Larios.
Over the year's Málaga's Christmas lights have quickly become one of the most talked-about attractions. Last year the light show was cancelled due to Covid restrictions but this year, the light show is back on, albeit, with a few changes which we'll explain in a minute. The Town Hall spends a fortune on the Christmas lights – this year's budget is a staggering €1,200,000 (and most of that is for Calle Larios alone!) – and the results speak for themselves. Below you can see a video of the electrifying show in 2019 featuring hundreds of thousands of LED lights and hit songs to accompany the light show. Pretty impressive isn't it?
This year's show in Calle Larios will once again feature a 'Christmas Forest' light show which will include 342 aluminium and glass leaves illuminated by special LED lighting, more than 100 aluminium suns ranging from 1 to 4 metres in diameter with lighting on both sides, and the impressive structure will also feature angels. The above will be housed in a structure composed on 22 12.8-metre-high aluminium arches and 1000 12-metre-long LED strips of light!
One of the novelties of this 'Christmas Forest' is that you'll also be able to visit the lights during the day as the aluminium used is designed to reflect the sunlight and create a unique daytime light show.
After the success of Malaga's light show in recent years – with millions of visitors – this year's show will also feature a spectacular light and sound show. However, there will be some restrictions compared to previous years. Instead of having fixed times for the light shows, and in an effort to avoid large crowds at set times, this year, there won't be a specific time. All we know is that the light and music shows will take place at different intervals from 19:00h to 22:00h every evening.
The official switching-on of the lights takes place on Friday 26th November at 19:00h.
During the light and music shows, you'll be able to watch the special led lights 'dance' to the sounds of different tracks:
'All I want for Christmas is you' by Maria Carey
'En Navidad' by David Bustamante, Javián and the OT Academy with Rosana
'Never Back Down (Battlecry)' by Two Steps from Hell.
Hark! The Herald Angels Sing, Jingle Bells, Campana sobre Campana, Gatatum & Una Pandereta Suena all performed by the Malaga Philarmonic Orchestra.
Each show lasts between 2 and 3 minutes and are sure to be the high point of your visit to Málaga City Centre over the Christmas period.
Other Fun Things to Look Out For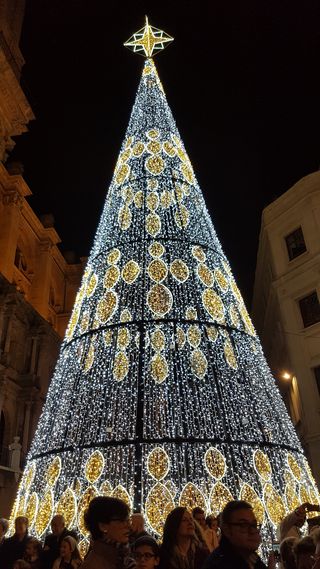 Video Mapping on the South Face of the Cathedral
One of the highlights this Christmas will be the video mapping projections on the south face of Malaga Cathedral. Using ultra modern laser technology, spectators will be treated to an amazing and unique 2D and 3D laser and music show. Featuring various Christmas and nativity scenes as well as special effects and music to get us all into the holiday mood. You'll also be able to watch images of the Cathedral's unfinished tower being recreated stone by stone!
Christmas in Calle San Juan
This Year Calle San Juan will also be one of the stars of Malaga's Christmas celebrations. As you walk down this street you'll come across two different settings: an 'Enchanted Garden' and 'Salón de Arañas' (Spider's Salon). Colourful hanging structures resembling fruit, the warmth of candle-fueled bulbs, barroque-style lamps and 200 Edison globe bulbs are just some of the stunning features you'll come across as you make your way down Calle San Juan.
The Alameda, Plaza de la Marina and the Park
After it's recent renovation, Malaga's 'Alameda' (main avenue) gets a new Christmas look too. You'll enjoy elegant lighting and stunning decorations made up of 500 strings of hanging led lights designed to reflect sunlight so that they can be enjoyed during the daytime too.
The Plaza de la Marina and the Park will be lit up with 14 arches in a more child-friendly style featuring multi-coloured sweets and lollypops.
Here's a fun challenge for you… see if you can make your way around Malaga and take a photo (selfie) of yourself at as many of the Christmas decorations as possible. Don't forget to tag us on Instagram (@sunsetbeachclub) 😊
If you're planning on spending Christmas on the Costa del Sol and are looking for accommodation, at Sunset Beach Club we offer comfortable apartment-style accommodation and fantastic facilities for a fun Christmas Holiday. Our animation team will have a full activities programme for kids and adults and we'll also offer a superb Christmas lunch and New Year's Eve Gala Dinner. You can click HERE for more information.