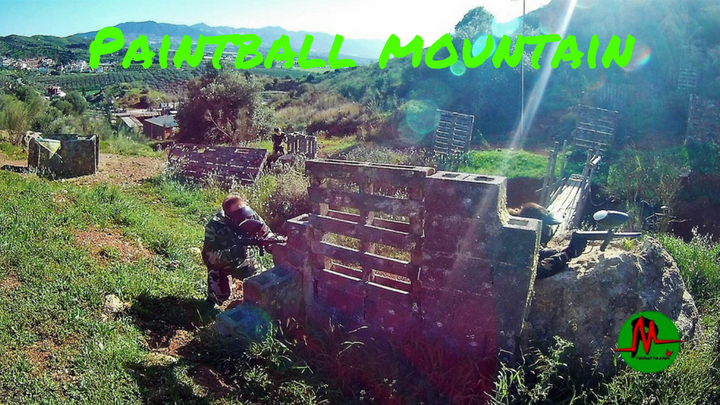 Are you looking for somewhere to play Paintball in Málaga?
Our colleague from the Sunset Beach Club Marketing Department, Tommy, recently visited Paintball Mountain with friends. Below is his first-hand description of this experience at this fun paintball park.
Over to you Tommy…
The day had arrived. It was Saturday afternoon and we had decided to spend the day at Paintball Mountain to celebrate my friend's birthday. It was the first time for almost all of us so there were a few nervous faces.
Located near the Andalucía Technology Park – which is less than half an hour away from Sunset Beach Club – Paintball Mountain is a little out the way so the easiest way to get there is by car. It is possible to get there by bus, but you need to switch buses half way there. You can find all the information about transport on how to get there on their website.
On arrival, we divided ourselves into two teams of 5 which we thought were equally matched. We then all went to get kitted out with our camo jumpsuits, protective vests and helmets – no such luck for the birthday boy – he had to wear a pink rabbit costume with big ears (see photo). They provide this suit when it's a special occasion like a birthday or stag do. Obviously, this made him stick out more than… well, more than a massive pink rabbit running around with a semi-automatic paintball gun! Unfortunately for him, he was also the tallest member of our group and therefore a bigger target 😊
The instructor is with you at all times, carrying water and extra ammunition if you need it – and believe me, you'll need it! Over 5 courses, chances are you will need to top up your gun, especially if you get a bit trigger happy. An extra 5 euros to reload (100 balls) is possible in the break between courses. Most of us decided to reload 2 or three times as the rivalry started heating up; the adrenaline rush probably had something to do with it. Besides, some of us had a large pink rabbit to catch.
There are various styles of games you can play at Paintball Mountain. Each course has its own game better suited to its particular terrain.
The first game was "the two flags", where the objective is to lower two flags at the top of large poles. A balance between defence and attack is needed as there is no cover (ouch!).
The second game was the classic "capture the flag" and the third game was "hold the fort". In the latter, teams take it in turns to invade the other's camp and take it over. Whilst all these courses and games were great fun, we left the best until last. It was getting dark so we skipped course nº4 and headed for our final challenge… the bomb!
Named "the bomb", players have to ensure the artefact (not a real bomb) doesn't end up on their half of the course when the game ends.
Game on! It was time to reload, rehydrate ourselves and get our gun's air pressure checked. We were ready for battle. I probably enjoyed this course more as it was more tactical and there was more space to move around. Your lives weren't limited either which made things even more competitive; when you got hit you just needed to return to the starting point.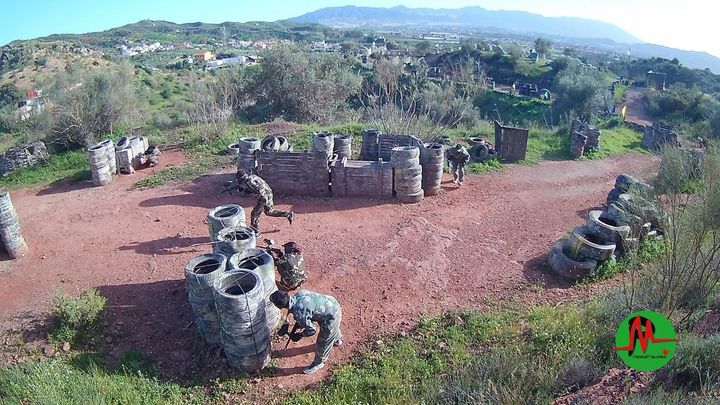 Finally, the whistle blew marking the end of a fantastic action-packed afternoon. We slowly made our way back to get changed out of the equipment. One player left the course limping, another couldn't stop laughing and my team left the course victorious!
Wondering whether getting hit by flying paint pellets hurts? The answer is yes, it does. I got hit several times and weeks on I can still prove it. However, this wouldn't deter me from returning again because we all had a great day, plus the Paintball Mountain staff there were very friendly and patient with us.
I would definitely recommend this activity, even the more sceptical members of the group enjoyed it and were the first to say they would return!
Are you looking for a hotel on the Costa del Sol? At Sunset Beach Club we have comfortable apartment-style accommodation and fantastic 4-star facilities for a fun holiday in the sun. For more information please visit www.sunsetbeachclub.com.