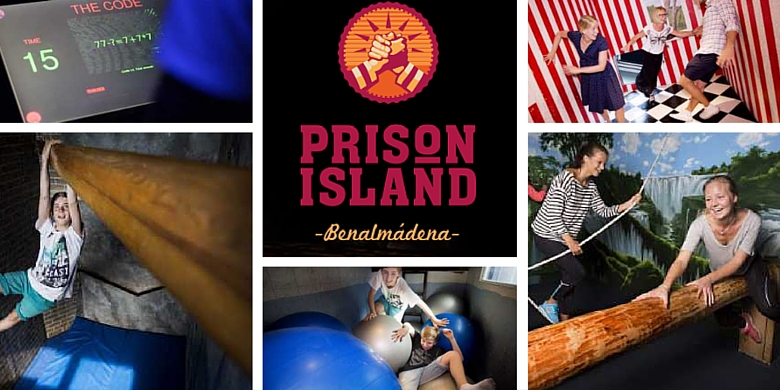 If you enjoy adventure games and challenges then you're going to love Benalmadena's fabulous adventure attraction: Prison Island!
Located in Benalmadena Marina's main shopping centre, this fun attraction promises hours of fun and adventure for all the family (from 9 to 99 years of age!). Based on hit TV show 'Fort Boyard' the Prison Island experience requires participants to work in teams to solve tricky challenges and tasks in a series of 'cells' in order to collect the maximum number of points. These challenges require a series of skills including physical, mental and tactical.
A visit to Prison Island is the perfect activity for a fun family outing. Work together as a team to solve problems and earn the maximum number of points.
A few things you need to know about Prison Island:
Time spent in Prison Island varies but most spend at least 1.5 hours on their first visit.
The ideal number of participants per team is 3 or 4 people. Two people can also play but some of the challenges may not be possible to complete or solve.
You don't need to tackle the cells in any particular order, you're free to choose which one you try first.
No need to fear creepy crawlies or reptiles, you won't find any of those nasty surprises in Prison Island; and you don't need to worry about getting wet or dirty either!
Whilst there is no need to make a reservation, we certainly recommend you do so as it's bound to get busy. (Tel: 951 137242 or email: info@prisonisland.es)
The 'cells' contain a mix of challenges but you don't have to be an athlete to complete them. Many of the challenges require more 'brainpower' to solve complex puzzles and quizzes and some require skills such as balance and coordination.
The points you accumulate during challenges are automatically registered in the computer system and you'll be able to see all scores (yours and competitors) on the screens you'll find in the corridors as you make your way through the Prison.
Top results will be shown on the Prison Island website… Will you achieve the top score?
Prison Islands facilities are also ideal for the following…
Team Building Events: The complex challenges you'll come up against in Prison Island make this the perfect activity for improving teamwork and communication.
Parties & Celebrations: Forget the same old ball parks and bouncy castles… Prison Island Birthday Parties provide an unforgettable experience for kids and parents alike!
Below is a short video which will give you an ideal of what to expect during your Prison Island visit.
Where is Prison Island?
You'll find it in the main shopping centre in Benalmadena Marina (Centro Comercial Puerto Marina Shopping).
Price
Adults:
1 Hour: €14
1.5 Hours: €20
2 Hours: €26
Children (Up to 12 years of age):
1 Hour: €12
1.5 Hours: €14
2 Hours: €18
Opening Hours
Monday to Thursday: 11:00am to 3:00pm and 5:00pm to 9:00pm
Friday: 11:00am to 3:00pm and 5:00pm to 10:00pm
Saturday: 11:00am to 10:00pm
Sunday: 11:00am to 9:00pm
And now you can also enjoy a new Laser Tag experience at 'Laser Island'!
Make the most of their special 'Combo Pack' and enjoy Prison Island and Laser Island for one special price.
Monday to Friday: 90 Minutes in Prison Island + 24 minutes in Laser Island + Free refreshment = €27
Saturday, Sunday & Public Holidays: 90 Minutes in Prison Island + 24 minutes in Laser Island = €27
Are you planning on visiting Benalmadena and need a hotel? At Sunset Beach Club we have comfortable apartment-style accommodation ideal for families as well as fantastic facilities and activities for a fun holiday in Benalmadena. For more information or to check availability please go to www.sunsetbeachclub.com.