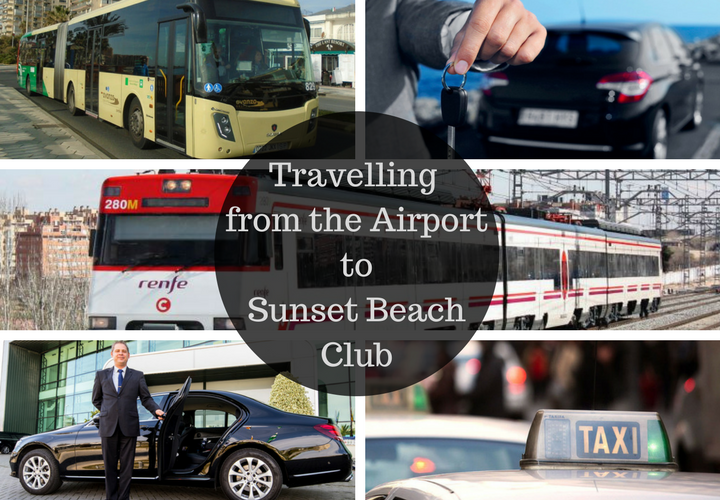 It's a question we get asked daily: What's the easiest way to get to the hotel from Málaga airport? Well, for all those of you who have yet to visit Sunset Beach Club and would like to know all the travel options open to you, here's a list of 5 different methods of transport.
#1 Taxis
This is probably the most popular, convenient and fast way to get to Sunset Beach Club from Málaga airport. The taxi rank is located just outside the main arrivals hall and – with the exception of the busy summer months – you won't have to wait to jump in a taxi which will bring you straight to the hotel.
The journey lasts approximately 20 minutes and the fair should be between €27 and €30 one way. If you have lots of luggage or are travelling late at night or public holidays there may be an additional surcharge fee, but this should not be too significant.
#2 Bus
The bus service from Malaga Airport to Benalmadena has only just recently been introduced and is proving extremely popular with our guests.
The bus stop is located just outside the arrival hall at the airport and you'll have to jump on the nº M128 bus which will bring you to Benalmadena and the bus stop just in front of Sunset Beach Club. The bus runs every half hour (you can see full timetable by clicking on the above link) and costs €3.50 per person each way; children under the age of 4 can travel for free.
Perhaps the only inconvenience is that the trip takes approximately 1 hour as the bus stops at other hotels and major tourist spots along the way.
Sorry but this service was recently discontinued. If you want to take a bus you would have to get a cab into Málaga and then get the M110 bus to Benalmádena (this stops outside the hotel). To be honest, it really isn't worth the hassle as it'll take ages and you won't end up saving much money… better to jump in a cab or the train!
#3 Train
The impressive new terminal at Malaga Airport has its own train station allowing you the option to travel along the coast by train.
At the station, you'll want to grab the Fuengirola bound train. Again, this is not the quickest option as the train stops at all stations along the way but the journey to Arroyo de la Miel/Benalmadena takes around 18 minutes. The fair is approximately €3 per person.
Unfortunately, the Arroyo de la Miel train station is located in the centre of town and you'll need to take a bus or taxi to get to Sunset Beach Club. You can take the M103 bus (Approx. €1.70 per person) or just take a taxi which will set you back just €8.
#4 Private Car or Minibus Transfer
If you'd like to travel in more comfort and avoid the hassle of trying to get a taxi at the airport you can book a private transfer. We work with a company called Autosol and you can book a car directly on our website HERE.
The beauty of this service is that their drivers all speak English and will be waiting for you in the arrivals hall so you don't have to waste time waiting for taxis. If you have a large group, they also have minibuses which can comfortably carry up to 8 persons.
#5 Car Hire
If you are planning to do lots of sightseeing and exploring during your holidays, you probably want to hire your own car. There are lots of options open to you here as the airport has many companies offering car rental.
At Sunset Beach Club we offer a car hire reservations service and you can check availability and prices by getting in touch with the Leisure Desk on the 6th floor of the hotel.
You can collect the car at the airport when you arrive (There will be a rep waiting for you) and leave the car at the airport when you leave. The fact that you won't need to take a taxi can mean important savings.
You can hire a car in low season from €28 per day (minimum 7 days)!