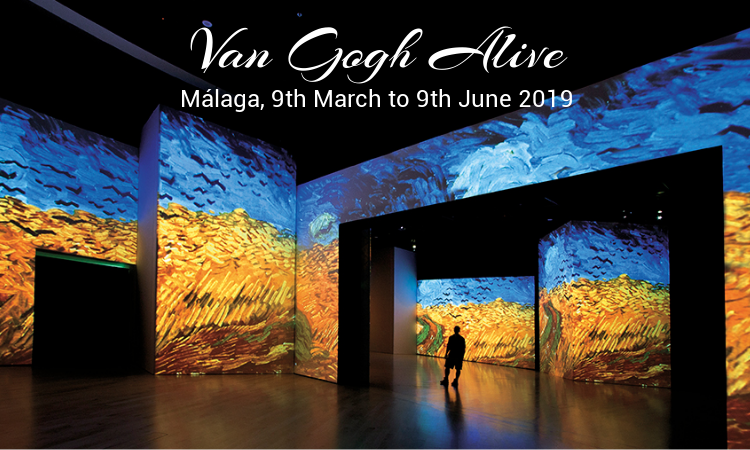 Málaga Port will host 'Van Gogh Alive', the world's most visited multimedia exhibition experience until the 9th June 2019. This is by no means a traditional museum visit… You'll venture into a unique and exciting new world which will allow you to engage with the work of Van Gogh from a completely new perspective.
This experience comes to Málaga after breaking attendance records in 45 cities across 4 continents. After visiting Seville, Alicante and Madrid, it's now Málaga's turn to enjoy Van Gogh's masterpieces from new angles and discover unique perspectives thanks to the state-of-the-art technology used to display his work on giant screens, walls, columns, ceilings and even the floor. You'll be treated to an explosion of vibrant colours and details so characteristic of Van Gogh's style.
Forty high definition projectors, synchronized to a powerful classical music score, project 3000 Van Gogh images allowing visitors to accompany the artist on a spectacular journey exhibiting his works in fine detail.
The exhibition is aimed at an audience wishing to experience art from a new and unique perspective and is a must-visit if you are staying on the Costa del Sol from March to June 2019.
Van Gogh Alive can be found at 'Paseo de la Farola' near Málaga Port's famous lighthouse and is open to the public from 10:00am to 9:00pm from Sunday to Thursday and from 10:00am to 10:00pm on Fridays, Saturdays and on public holidays.
Here's a short video to give you an idea of what you can expect when you visit Van Gogh Alive…
Prices
Monday to Friday:
Adults: €12
Kids aged 5 to 15years: €9
People with disabilities: €9
Students, pensioners and unemployed: €10
Kids under 4 years: Free
Weekends:
Adults: €14
Kids aged 5 to 15years: €9
People with disabilities: €9
Students, pensioners and unemployed: €12
Kids under 4 years: Free
There are also special family packs available which offer interesting discounts. To book your tickets online please visit www.vangogh.es.
If you're planning on visiting Málaga and the Costa del Sol and are looking for accommodation, at Sunset Beach Club Hotel we have comfortable apartment-style accommodation and excellent facilities for an enjoyable holiday in the sun! Visit www.sunsetbeachclub.com for more information and to check availability.